Do you ever feel like you're spending too much time on things that…
Don't make use of your creativity
Don't make you any money
On Tuesday, I'm sharing all the "secret weapons" to run your business better, save time, and save some serious dough.
I'm talkin' simple tech hacks (that won't make you pull your hair out – uz I'm NOT super tech savvy) and ways to delegate "mini-projects" without hiring an assistant. I'm also talkin' about "tricks" to get professional looking graphics without hiring a "real" graphic designer.
I shared one of my favorite resources the other day in this video and you'll get more just like it on the live Webinar.
Here's the info on the free Webinar, "9 Vital Business Resources for Makers, Designers, and Artists…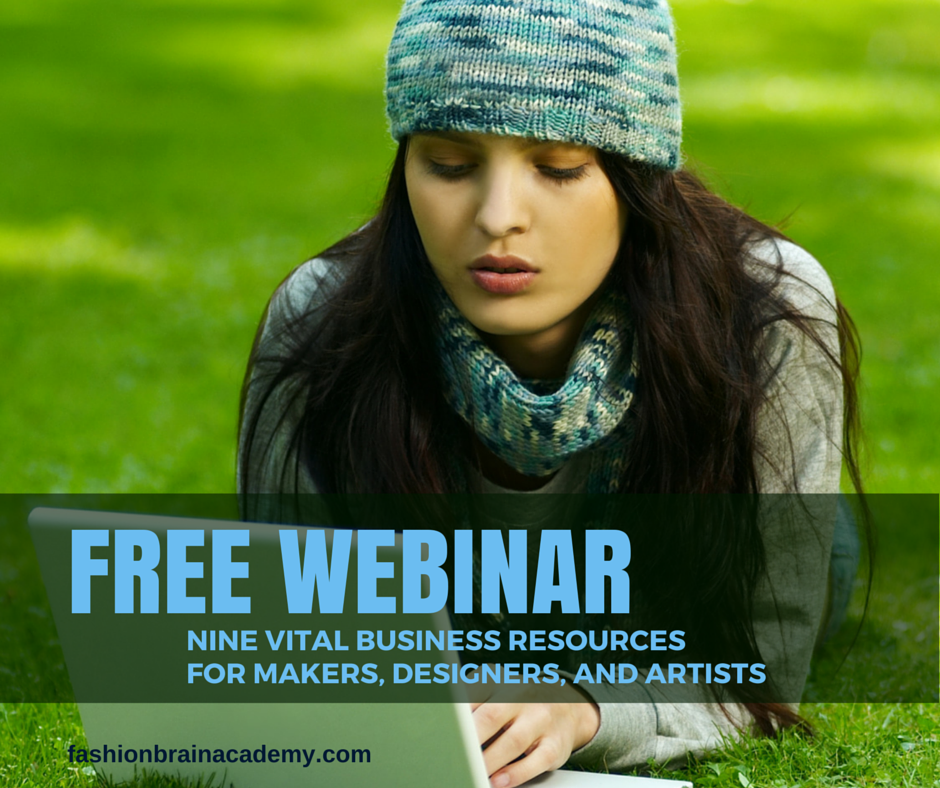 The Details
What: "9 Vital Business Resources for Makers, Designers, and Artists"
When: Tuesday, March 3rd, at 2 pm EST (1 pm CST, 11 am PST)
Where: Online
Who: presented by Jane Hamill, founder of Fashion Brain
Cost: free!
Recording? No. This is a free live event. If you can't make it, we'll catch ya next time. I promise there will be more free events coming up in the future.
Why attend?
So you can do your job faster and better. And mostly, to reduce your stress level, because you're doing your job faster and better… Less time spent on the business side means more time to create and more time to SELL MORE stuff.
Click here to register for the Online Workshop (it's free!)
I'll be taking your questions LIVE at the end of the presentation.
Questions about the event? Just hit me up in the comments below. Have a great day!
Jane
P.S. If you're feelin' it, would you please share this with your friends? What I'm teaching on Tuesday will help almost ANY entrepreneur and I'd love to get the info into the hands of more people! You can share this post with the FB and Twitter links below or send your peeps to this link: https://makersfba.eventbrite.com