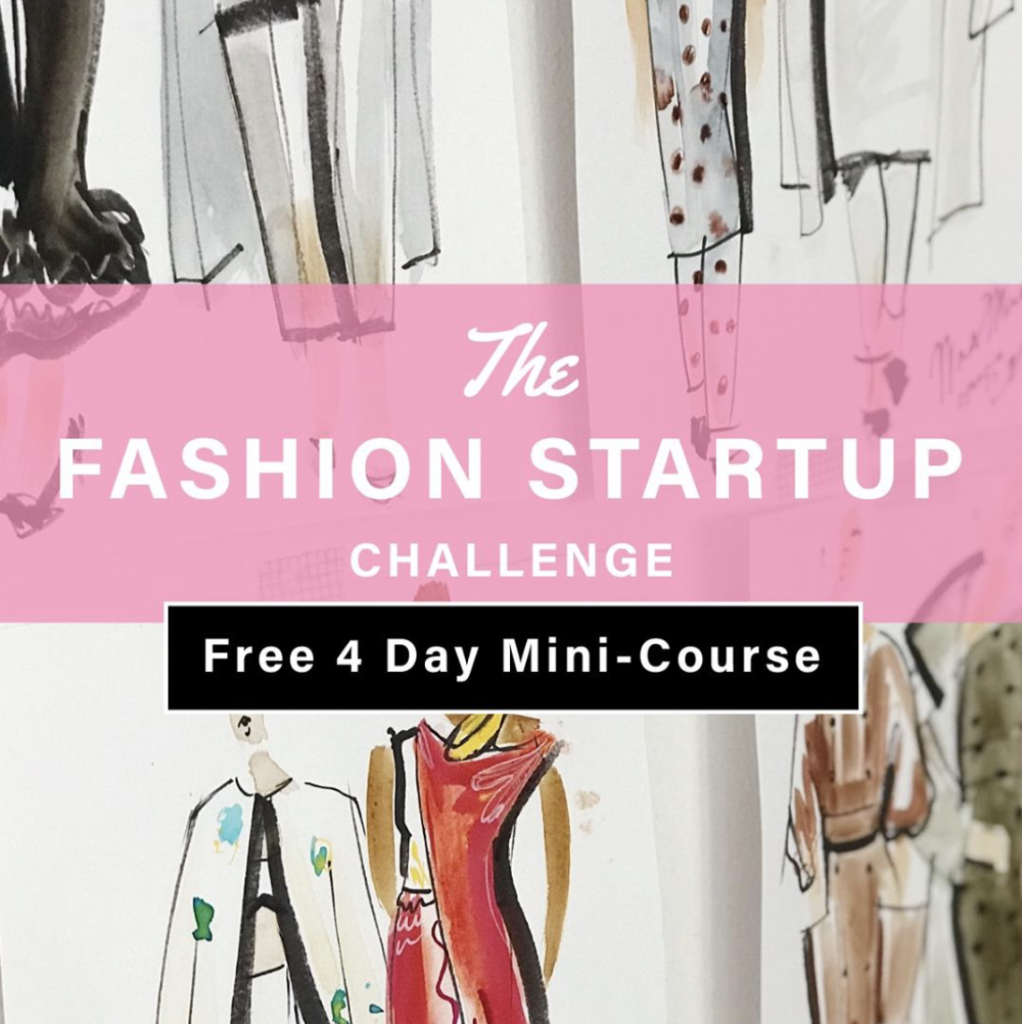 The Fashion Startup Challenge
Do you want to launch your business the RIGHT way? 
Want to make sure you don't end up with a garage full of inventory you can't sell?
Now is the perfect time to get a solid plan for your new business. You can launch your product successfully and I'll help you do it. Can you just IMAGINE yourself at this time next year? You could have your business up and running and already be SELLING. How amazing would that feel?
What is it? The Startup Challenge is an 4-day mini course for anyone planning to start a clothing line or THINKING about starting a line. You'll get simple and quick action steps to get your new business on the quickest & best path to success. 
When is it? Tuesday, October 26th through Friday, October 29th.

TUE OCT 26 – FRI OCT 29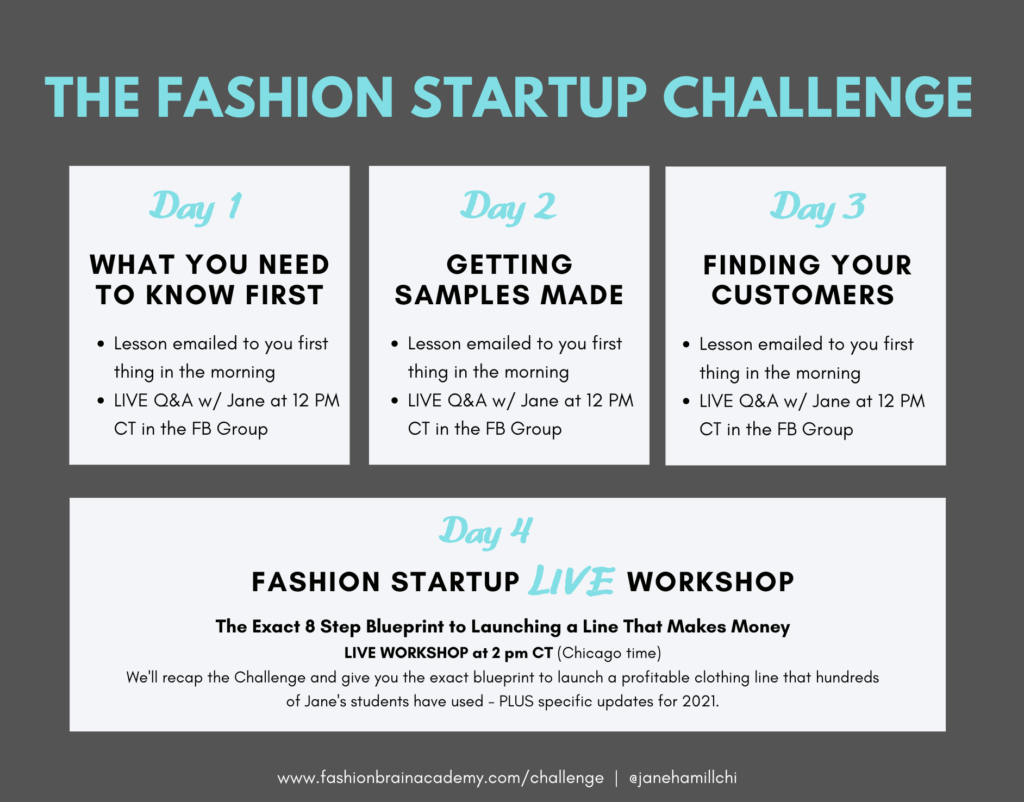 What will I learn? Here's how the Challenge will go…
Day 1 TUE: What you need to know FIRST about setting up a fashion business 
Day 2 WED: How to get your samples / prototypes made & what it will cost 
Day 3 THU: Finding your "perfect customers" so you get sales on day ONE of launch 
Day 4 FRI: LIVE Workshop via Zoom: The Exact 8 Step Blueprint to Launching a Line That Makes Money: 2 pm CT (Chicago time on Friday, October 29) To find your time zone, click here. 
How does it work? On days 1, 2, and 3 (10.26-10.28) we'll email you in the morning with access to the day's training. Next, join the LIVE Q&A with Jane in the Challenge Facebook Group at 12 pm CT (Chicago time). On day 4 you'll have a LIVE Workshop at 2 pm CT (Chicago time).
Mark your calendar! We'll have a LIVE Workshop on Day 4 (10.29) to recap what we've learned in the challenge and teach you the proven 8 step blueprint for launching a profitable business (starts at 2 pm CT, Chicago time).
How much does it cost? $0, zero, nada, zilch, it's my gift to you.
Why should I take the challenge? By the end of our 4 days together you'll have a MUCH clearer plan for your clothing or accessories line, you'll know how to find customers, how to find a manufacturer, and what it REALLY takes to succeed. I teach in a no-fluff style with simple, actionable steps. 
Got friends??? You can SHARE and POST this link for them to join the Challenge (and thanks!!): https://fashionbrainacademy.com/challenge/
Where you've seen Jane's work…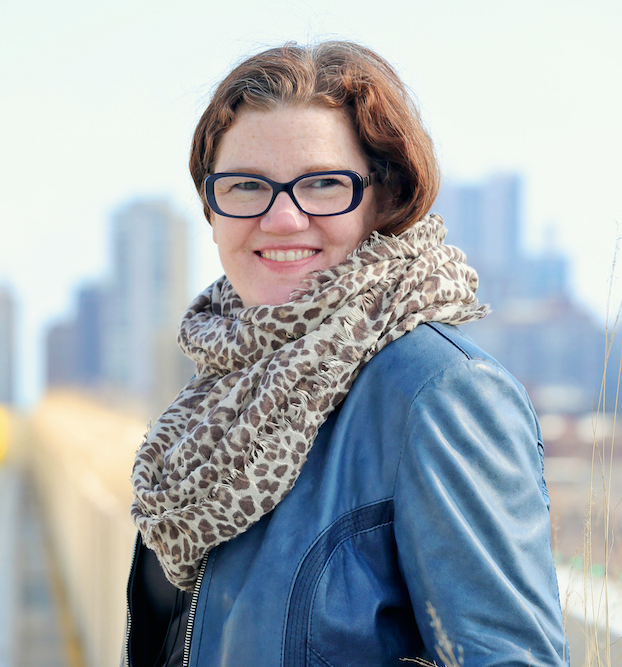 Who's Teaching?
About Jane Hamill, your fashion business mentor:
Designed the Jane Hamill clothing line for 14+ years and owned her boutique in Chicago for the same time period (cleverly named Jane Hamill)
Sold the Jane Hamill line in her boutique and wholesale to Bloomingdale's, Saks, Marshall Field's (now Macy's), Saks Jandel, Mark Shale, hundreds of specialty stores
Jane's womenswear line was represented in 5 showrooms across the country
Got great press over the years including CNN, FOX national TV, Entrepreneur Magazine, InStyle, Lucky, Chicago Tribune, McCall's, National Public Radio, etc…
Did an essay for NPR's "This I Believe series" – also in the book of essays. The topic? Barbie.
Successfully sold the wholesale business and boutique – 14 years and 2 kids later
Started consulting with retailers in 2007 (with Retail Mavens) re: inventory control, cash flow, open to buy #'s, marketing strategy, and reaching sales goals
Started Fashion Brain Academy and Jane Hamill Consulting in 2010
Helps designers and creative entrepreneurs through online courses, group coaching, mastermind programs, public speaking, and a weekly podcast, The Jane Hamill Podcast
Former director of Design Education at the Chicago Fashion Incubator
Adjunct faculty at Columbia College – Fashion Studies Department
Enough, enough…you get the idea.