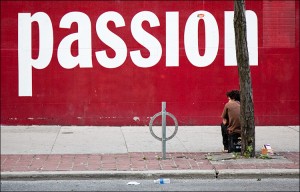 I know I'm going to get some heat for this, but here goes.
Passion is Overrated
Everybody starting out in business has enormous passion. It's so exciting to start a new project – all the creative ideas are flowing. Everything is shiny and new and fun. But every great idea always seems to turn into work.
What really makes a difference is how long can you sustain this passion. Fast forward 18 months into your new business – after you've had some real struggles.
Maybe you go through:
your product has quality problems
your website goes down for a month
the bank won't give you a PO loan – and you have the orders!
rejection from the last 6 customers you pitched
you can't meet payroll this week
you ship late and half your orders are returned
After you get knocked around a bit by the business world, how's your passion then? Do you still feel it in your gut? Because tenacity, perseverance, getting back up after you fail – these are the things that will make you and your business succeed. These are the things that will keep you in business.
I heard an interesting story once from woman training to be an opera singer. Her voice coach asked her, "Suzanne, where are the BEST opera singers in the world?" Suzanne replied, "La Scala, The Met, The Royal Opera House".
Her coach said, "No. They're working for tips".
The ones who make it are not necessarily the BEST. They're often the ones that DON'T GIVE UP. They keep plugging away no matter what setbacks hit them. They dig deeper. They do the work when they don't feel like it. And they keep their passion alive.
What do you think? Is passion enough? Do you have a story of someone whose passion kept their business alive? Share it below by leaving a comment!
Have a great day,
Jane