LAST CHANCE TO PURCHASE THIS COURSE
Get HALF OFF the tuition until 4/20 at midnight CT
IMPORTANT: This course will be retired permanently after 4/20. When you purchase today, you will get unlimited access for a FULL TWO YEARS. NOTE: We will be offering a completely new Fashion Startup course + interactive 8-week Mastermind starting in May 2021, For more info, click here.

New Designer Program: Start a Clothing Line from Scratch
Online course, available now, at your own pace
Start a profitable fashion business that works for YOU and your life. Skip the frustration and dues-paying, save yourself loads of time, and finally see your product go from just an idea in your head to something sold in stores, online, and in the hands of your dream customers.
This step-by-step online course is your ultimate shortcut for creating a business that allows you to use your creativity every day and make money doing it. It's available immediately, at your own pace, from any device. You'll get access to the material for TWO FULL YEARS after joining.
"Jane Hamill's course for designers is the best money I ever spent."
– NDP student (comment on YouTube)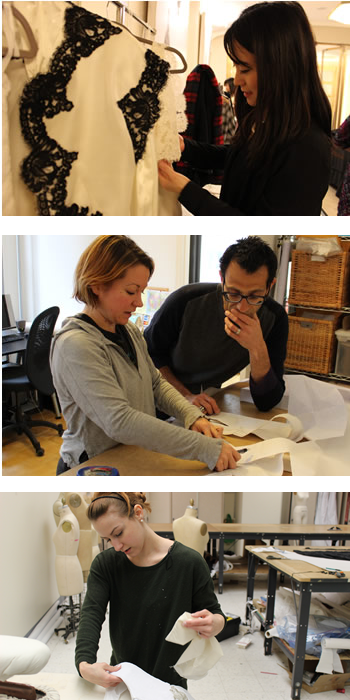 Who is This Program For?
New Designers and entrepreneurs who are either working part-time in your business just starting out, or THINKING about starting a business. You love what you do, but you'd like to make a real business out of your creative idea. You may have a day-job, you may or may not have a background in design, but either way this is the building stage for you and you'd like to build your business quickly with the least amount of mistakes and money.
What Your Issues Tend To Be…
You're passionate about what you do and you badly want to create a successful business but right now you need some guidance on how to go about things. It's hard to know where to start or what to do first. This can create some stress in your life and sometimes require you to work very long hours trying to figure out the "right" way to do things. That's because you "don't know what you don't know" about running a design business… at least not yet.
What You Need Most Right Now…
Your primary focus needs to be on creating your product and doing some serious planning to get your business – a viable business – up and running. You need a plan! In order to do this, you need some training on what really works for this industry. You need step by step instructions for producing a line and selling it — not to mention marketing, costing and pricing, sourcing, selling tools and line sheets, and more! Then, it's all about stating specific goals and creating the focus you need to move your business forward quickly, yet comfortably.
What Is It?
The New Designer Program is a complete online training course that includes 9 Vital Steps to launching a fashion business. You get all the no-fluff information in the form of videos, audios (mp3 files), worksheets, downloads, cheat sheets, and spreadsheets – 25+ hours of training materials. You get the links to all the trainings so you can watch, listen, and work on the material as often as you like – whenever it suits your schedule, from any device. You have access to the course material for 2 full years.
Here's What You'll Learn in NDP – the Course Curriculum
How to Fit Your New Business into Your Already Busy Life
How to decide what's a priority and what can wait
What are the first steps
What you can stop doing
What size business makes sense for you
Handout: Do This / Not That
Setting the Foundation for Your Business
What licenses you need and where to get them
How to keep it legal
Fashion industry selling periods and seasons – how it works
Different ways to sell your product and how it affects your business model
How much money will you need
The Four C's – Customer, Culture, Competition, Concept
Choosing your ideal customer
Company culture
Your compelling concept
Knowing and beating your competition
Researching potential customers
Finding a niche that makes sense for your business and your life
Understanding your WHY and how this affects your vision
Building Your Audience Before Your Product is Ready to Sell
3 simple steps to start building your audience TODAY – before you even have a product
Why you can't wait until your product is ready to look for customers
Product development + customer development
Building your mailing list from scratch
What to say to your audience
Crafting your marketing message
How to explain your product – your "elevator speech"
What to tell people as you go through the planning stages
Money: Startup Expenses & Costing Your Line
Costing and pricing your line
What markup you need to be profitable
2 specific case studies and examples of what other designers spent
Where it's OK to spend money and where it's not
Templates: Cost sheet with pre-filled markup formulas
Handout: Do Spend / Don't Spend
Finding Fabrics and Suppliers
How to find fabrics & suppliers in small quantities
What fabric shows are out there and where to find them
Different places you can buy fabric – what's a mill, a converter, a jobber?
THE LIST – Jane's own list of 24 recommended fabric companies you can buy from TODAY
How to NOT be taken advantage of
Why some companies just don't want to sell to you
Handout: Before You Buy Fabric – 5 Things You Need to Know
Producing Your Sample Line
What questions to ask a sewing contractor before you start using them
Where to look for a good manufacturer
What to expect re: minimums and pricing (an overview, not specific price quotes)
10 steps to a finished sample line – how the process works
What's a tech pack and what goes in one
Why your first sample is so important
What it takes to get a first sample made properly
Timeline for product development
Working with a pattern maker and making their job easier
How to find a sewing contractor, pattern maker, or sample maker
Jane's "Secret weapon" to find contractors
Examples of production forms: cutting ticket, spec sheet, fitting form
Checklist – Before You Go to the Sample Maker
Bonus video: How I found a manufacturer for my blanket line
Preparing Your Line to Sell
Your order form
Line sheets – what MUST be included
Your website
Photo shoot – what type of pictures you should take
Do you need a lookbook?
Terms, deliveries, minimums
Selling Your Line
What buyers are looking for in a line
How to approach a boutique
The best way to craft an email for buyers – what to put in it, what to leave out
What's the deal with trade shows
How to sell directly to consumers (it's NOT the same as selling to stores)
Taking the order and accepting payments
Checklist: Before You Can Sell to Retailers
"I listened to the whole training session this morning – very helpful! I feel as if my problems are finally being heard. The sourcing fabrics information was just what I was looking for…I had spent hours (and I mean hours) searching on my own and you have it all right here for me! All I can say is, thank you!"
– Karen Ashwill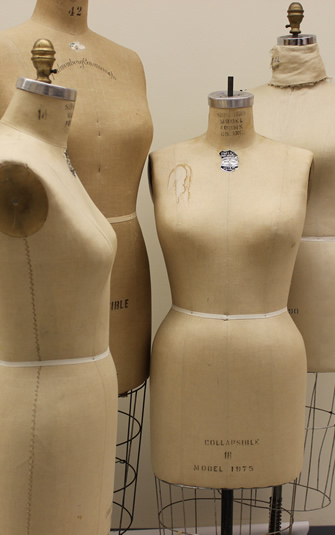 How It Works, Here's What You Get…
25+ hours of video training with nine different modules broken into categories, each tackling a different issue

that are geared just for startup fashion designers on the business side of things.

Everything can be done online

 – you can live anywhere and there is no tricky technology to manage. I've had students take this course from Australia, France, Israel, the U.K., Mozambique, and more.
The training is in the form of

webinars, videos, worksheets, templates, scripts, checklists, cheat sheets etc.

You can watch the trainings on your own time

– we send you the link and the PDF's and they are yours to use when it suits your schedule.

All videos are accessible on your computer or tablet – the videos will also play on your phone.

Rolling admission.

You can join now and start immediately.

Access to the material is for TWO FULL YEARS from the date of enrollment. 
"I love Jane's teaching style! The handouts are great, I can see that a lot of thought went into them. The New Designer Program is perfect for a beginner like me to start probing the information that's needed to focus."
The program includes 25+ hours of video plus UNLIMITED access for 2 full years to the course and all the training materials. You can start today and you'll
begin with Module One.
I started this Online Program for people who are just getting started with their line. You want to learn a lot quickly without without wasting time or money. You do NOT need to have a fashion design background to have a successful and profitable business, trust me.
$797 –> $399 (no coupon needed)

IMPORTANT: This course will be retired permanently after 4/20. When you purchase today, you will get unlimited access for a FULL TWO YEARS. NOTE: We will be offering a completely new Fashion Startup course + interactive 8-week Mastermind starting in May 2021, For more info, click here.


NOTE: After you register, you'll receive an automated email welcoming you to the course. We'll add you to the roster MANUALLY and send you your username and password in a separate email. Please allow 24 hours for access.
 Jane's 100% Guarantee:
Hundreds of students have been through this online course and loved it. I believe you will love it too. If this training course isn't awesome for you, I offer a full 60-day guarantee. Just fill out the worksheets and the course downloads, send us your work, and tell us why it's not a fit for you. If you watch the trainings and do the work and still feel it's not a fit, let us know and you'll get a full refund. – Jane
I'll tell you WHAT you need to know, HOW to do it, and WHERE to get it. The strategies I teach in the New Designer Program are the same ones I used in my design business for 14 years, and the same techniques I use in my private coaching practice.
Is this what you're thinking? FAQs…
"I don't have the time."
"I'm already working 10+ hours a day." I know, I've been there too. This Program is all online and accessible from any device — at YOUR pace. Watch the trainings and fill out the Worksheets on YOUR schedule – between meetings, when the kids are in bed, whatever you like. Plus, you get access to the material for two full years so there's no rush. And here's the truth… If you're starting a new business, you'll need to shift your priorities. Watching every episode of Game of Thrones won't get you what you want. Spending your time learning from someone who's done what you want to do – successfully – will save you countless hours, tons of frustration, and lots of money.
"What if my product isn't 'fashion-y'?"
Doesn't matter. I'm not that "fashion-y" either and I teach the course! If you're making a product that is SEWN, this course will help you. Students have taken this course successfully in many niches, including home products, baby products, backpacks, convertible clothing for people getting chemo, uniforms, a belt accessory, boot accessories, bathing suits for seniors with arthritis, and all kinds of cool things! This program is NOT a good fit for jewelry designers. 
"I don't have the money."
Let me tell you, I've had about a thousand years of experience in this business and it will cost you dearly if you give your cutter a cutting ticket that's not done right. I'll teach you how to avoid this mistake – and I assure you I have done this – and one bad cutting ticket cost me an entire order worth $2780. Or how about if you source the wrong fabrics – any guess what that'll cost you? You get the idea here.
"What can I really learn from an online course?"
Let's see, you could learn the right way to draft an email to a boutique, you could find out how to cost and price your product,  how to start building an audience NOW – before your product is even ready, and what needs to be on your website. And remember, you get all this training for much less than the cost of a college course.
"What if I'm not sure?"
Of course you're not! We're talking about starting a business and it's exciting, daunting, fun, and downright terrifying – all at the same time. When is anyone REALLY POSITIVE about anything? You have to just try it and see. I know that this program works. In fact, I'm positive. Read what former students have said about it! Also, if you do the work, fill out the worksheets, and send us what you did after you try the course for 60 days – and you still feel it's not a fit for you, no worries. Just send us your work via email and I'll give you a refund. That's my 100% guarantee so there's NO risk for you.
"What if I live outside of the United States?"
Most of the course applies very well. The Session on fabrics will be helpful for understanding the process of buying wholesale fabric but not in terms of specifics, i.e. the specific vendors in the fabric guide might not help you. Also, the info about business licenses will not apply. Everything else works – defining your customer, niche, costing and pricing, selling tools needed, how to sell. We've had students from almost EVERYWHERE in the world, including Australia, Canada, France, Mozambique, Kuwait, Switzerland, United Arab Emirates, the U.K., etc., and they are very happy. 
"What if I'm not a "real" designer, will this course work for me?"
More than half the people who take this course have little or no experience or background in the fashion industry. They're people who have a great idea for a sewn product and want to make a business out of it. This course teaches you the BUSINESS side of things. It's for anyone who wants to start and run a profitable fashion company and wants to understand the steps involved. It doesn't matter if the business owner is the actual "designer" or has their ideas interpreted by other industry professionals (there are a lot of advantages to that, actually). What I mean is, you don't need to consider yourself a "designer" to benefit from this course.
"What if I have questions that are specific to my business?"
You are buying a course at a fantastic price. It does not include coaching or mentorship. 
"Who is Jane Hamill, anyway?"
A few highlights…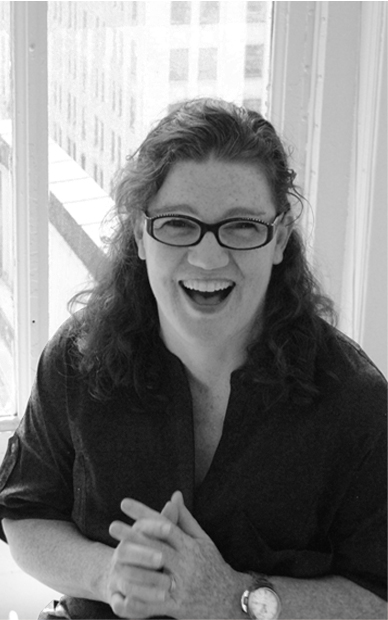 Designed the Jane Hamill clothing line for 14+ years and owned her boutique for the same time period (cleverly named Jane Hamill)
Sold the Jane Hamill line in her shop and wholesale to Marshall Field's, Mark Shale, Bloomies by Mail, Saks Folio, Saks Jandel, and numerous specialty stores
The Jane Hamill line was represented in 5 showrooms across the country
Designed a line of bridesmaid dresses called Dress Fancy
Got great press over the years including CNN, FOX national TV, InStyle, Lucky, Chicago Tribune, McCall's, National Public Radio, Entrepreneur Magazine
Did an essay for NPR's This I Believe series – also in the book of essays. The topic? Barbie, of course. Click here to read more.
Sold design biz and retail store in 2007 – 14 years and 2 kids later
Started consulting with retailers in 2007 (with Retail Mavens) re: inventory control, cash flow, open to buy #'s, marketing their business
Started Fashion Brain Academy and Jane Hamill Consulting in 2009
Helps designers through online courses, group coaching and mastermind Programs, private coaching, and public speaking.
Former director of Design Education at the Chicago Fashion Incubator
Adjunct faculty at Columbia College – Fashion Studies Department
Enough, enough…learn more about Jane here.
What are other people saying?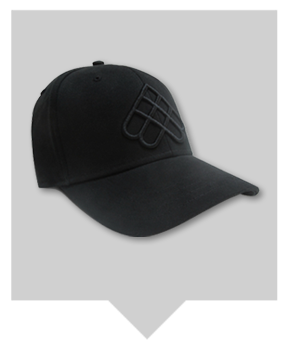 "Just wanted to let you know that your startup New Designer Course is saving me many hours of mistakes, making my life less stressful, and giving me more confidence. You're like my hidden gem. Thank you. Thank you. Thank you." Mark Gatto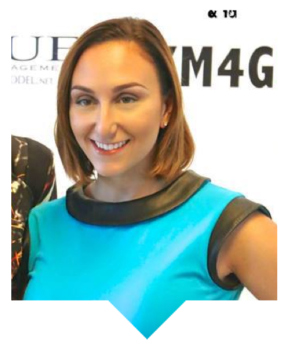 "Your course set me on the path I needed and I am truly grateful!" Nina Verklas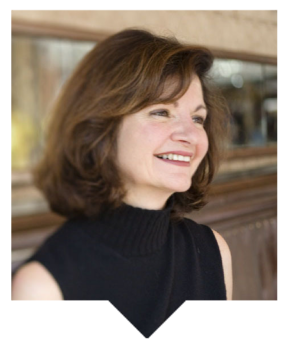 "When I first saw Jane in a YouTube video, I thought it was too good to be true. I quickly learned she was the real deal. My business wouldn't be where it is today without Fashion Brain and her course for designers."
Adeline Olmer
French-Secrets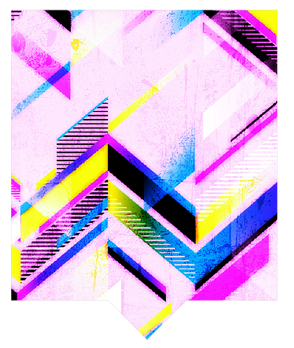 "I studied fashion design in college (at F.I.T.) and have been a designer for ten years so. I was concerned if the course would be extensive enough for me and I wondered if it would be worth the money. I quickly found out that those of us with industry experience can really learn from the course as well. You have real life experience and are a great teacher. I would definitely recommend this course. I'm glad to say I feel like I have another mentor now to help guide me!" Monique Moran
Sounds Great, What's the Catch?
Nope, no catch. I simply want a way to help designers who couldn't/wouldn't be able to work with me through one-on-one coaching. It's a more affordable option for startup entrepreneurs.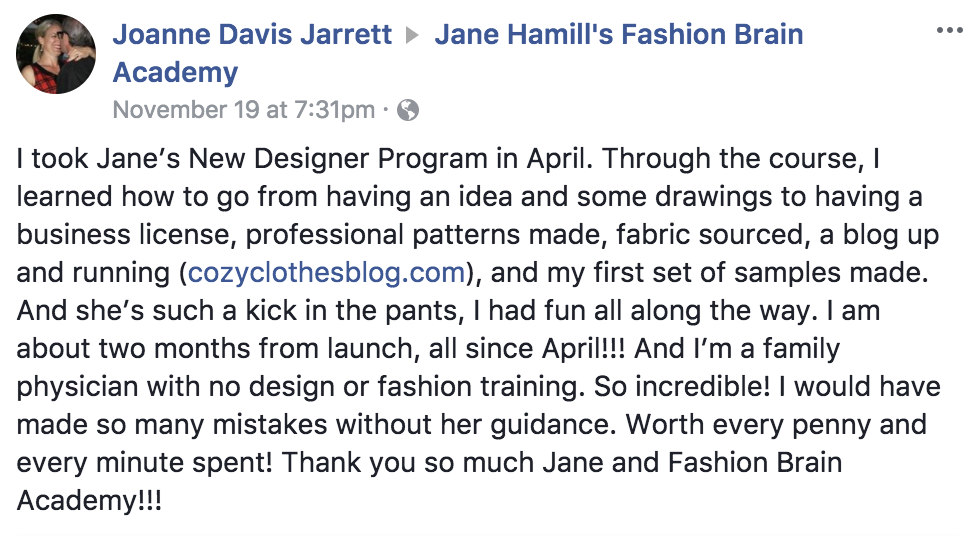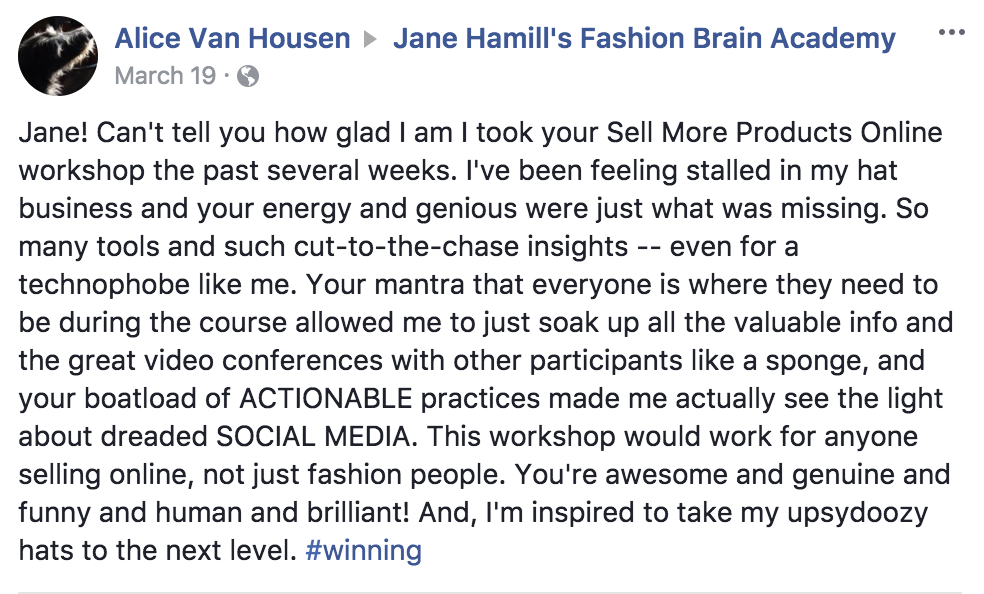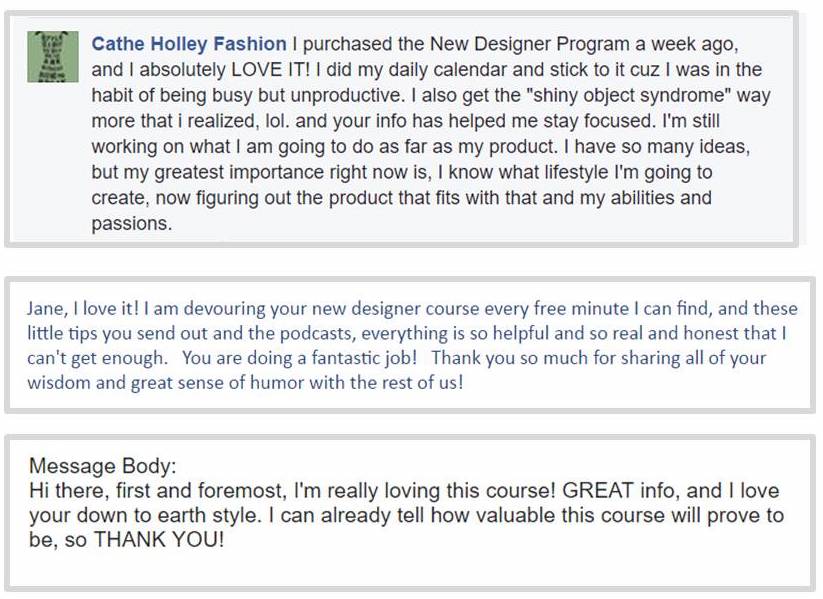 "Though no one can go back and make a brand new start, anyone can start from now and make a brand new ending." – Anonymous