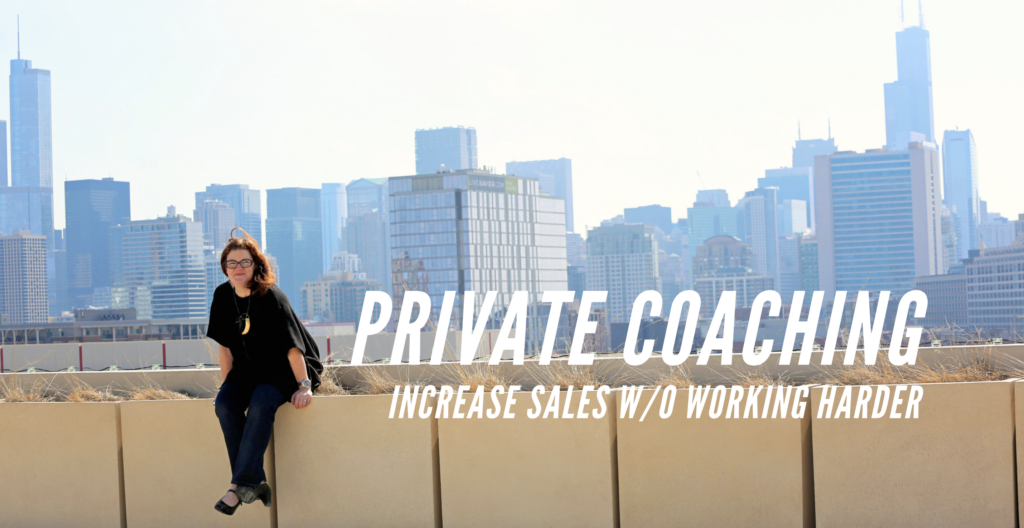 If you've been slogging away at your business for a while & still thinking:
"I'm

working way too hard

to be making this little money."

"My business is growing quickly! I need help scaling but don't know where to start."

"I feel like I'm

missing something

important for my business that everyone else seems to know."

"I've totally lost track of

my ideal customer, how to find them, and a compelling marketeing message to attract them

."

"I need a PLAN. Full stop."
If that sounds like you, I get it.
If you're feeling stuck and you KNOW there has to be an easier way, let's connect. Coaching is all about creating a do-able PLAN and staying accountable. No BSOS (bright shiny object syndrome).
I help product entrepreneurs make more money without working any harder.
I work with business owners in 2 ways.
OPTION 1: One-Time Private Session
When you need help and you want it fast, this option is for you. If you're stuck, we'll focus on 3 main topics during your session. They can be marketing, email strategy, content planning, launch planning, startup strategy, product planning, a growth plan for online sales, business model, ideal customer clarity, a website review, and more…
I'll provide as much guidance, support and direction as humanly possible in this session. I'll be 100% honest with you.
A highly focused session like this can change your business – and your life.
What You Get: This package includes a 60-minute private session via Zoom or phone, Jane's follow-up notes from the session, and the complete session recording.
You also get one week of access to Jane via email for check-ins after your session to answer any questions, confirm your plan, and get you into action.
How to Book: You can purchase your coaching session here. After you purchase a session, you'll receive an email with a link to Jane's online scheduler to choose your time. One-Time Coaching Sessions are generally available Mondays, Tuesdays and Thursdays between 9 am – 4 pm Central time (Chicago). If you don't see a date and time that works for you, just email the team at brain@fashionbrainacademy.com and we'll make it happen. Time zones can be tricky – especially for our Australian friends.
Your Investment: $397 –> $297 (use code: DECEMBER to save $100)
Click here to book your session. 


OPTION 2: If You're Looking for a Coach…
I offer ongoing private coaching for motivated, purpose-driven entrepreneurs.
We can hop on a call together and have an honest conversation to see if it's a fit to work together. This is not a high-pressure sales call or a free coaching session.
It's a chance for you to tell me about your business, your goals, and what you're struggling with – and see if it's a fit. I will have questions for you and you probably have some for me.
At the end of the call, if I believe I can help you reach your goals via coaching, I'll let you know. If I'm not the right person or don't feel it's a fit, I'll suggest a different next step for you. Either way, you'll learn something new about your business and get clarity on your next steps.
To find out if ongoing coaching is right for you, click here & let's talk.
Got questions? Just email us or call 312.715.8301.