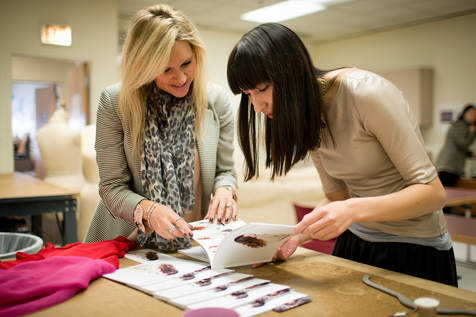 If you're looking for fashion blog ideas, Erika Gimbel, a Chicago freelance writer, is here with 10 ideas to help get you started. ~Jane
Having trouble thinking of ideas for your blog? As you already know, having a blog on your fashion business website helps people find you, keeps your customers excited, and generates invaluable customer feedback.
Now…what can you write about? Here are 10 quick ideas.
1. Business and product news. This one's a basic.  Having a trunk show?  Being picked up by a new store?  Line launching?  Announce it on your blog!
2. Things that inspire you. Your family, a vacation, street fashion, color, a beautiful home — where do you get your ideas?  What do you love?  Sharing (non-competitive) products and experiences help your readers get a sense of your design aesthetic and what kind of "lifestyle" they're buying into with your designs.  Lots of photos and little text works great for these kinds of posts.
3. Customer stories. Got photos of a great customer wearing your designs?  Or someone who's willing to tell a story about where she wore it and why it was perfect?  Share the story with photos of your line in action.
4. The design process. What are you working on now?  Let your readers in on the design process.  How you do it, what stage you're in, members of your staff (if any!). If you design in a cool space, take readers on a virtual tour of your offices. Keep it positive – no stories about how fabrics aren't coming in or how someone didn't show up for work one day.
5. The weather. This one sounds goofy, but if you've had 5 days straight of rain, write about what you wore, or find photos of great rain-products that you love.  Same goes for any weather — sun, hot, cold, fog, you name it.
6. Your causes. If you attended Jane's webinar about cause marketing, you know that having a nonprofit cause connected to your line can help boost your sales and define your brand.  If you support a dog shelter, write about what's happening there and how your company helped.
7. Time capsule. What were people wearing 20 years ago?  30?  Find a few royalty-free images on the web, and comment on them in a post.
8. Celebrity news. Comment on what celebrities are wearing, Oscar fashion, etc.  Naming celebrities in your blog may even get you found by potential customers searching Google for those celebrities.
9. Style advice. Show how to put elements of your line together in different ways.  If you design scarves, make a video on scarf-tying techniques.  Check out You Look Fab and the Inside Out Blog for ideas. Both writers are stylists, not fashion designers, but you can definitely include content like this on your blog.
10. Trend spotting. What trends have you noticed?  Share them with readers, whether the trends are great or goofy.  What do your readers think?  This is a great blog post idea to get a dialogue going with customers.
These 10 ideas are just a start — what other ideas do you have for your blog?