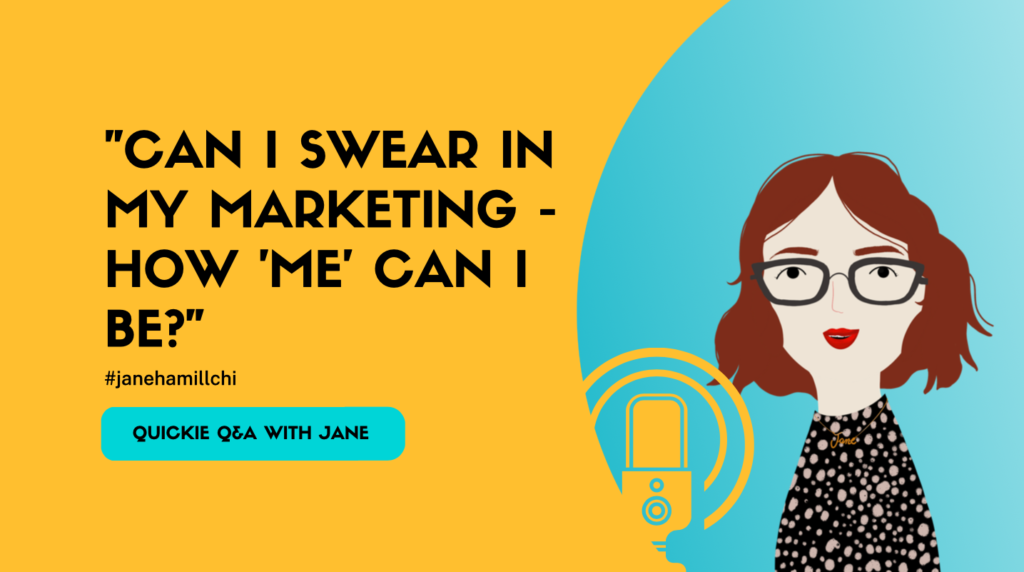 How much of my own voice and personality should I show through my brand?
Today's episode is a quickie Q&A. I'm going to try out a new format for a while. I'll grab a question from an entrepreneur and answer it on the show. 
Here we go…
"Jane. When I write in my voice [like emails and stuff, she's saying], so sometimes I may use swear words when creating content, and this is me and it's how I speak. Is this okay? I really don't see many other brands adopting this tone. How much of my own voice and personality should I show through my brand?"

You may not see this with a lot of clothing, accessories or home goods brands, but you definitely see it with business & life coaches.
But for product businesses, is it OK to drop a few F-bombs in your content and marketing materials?
It's hard to imagine Nordstrom announcing a Huge! F-ing! Sale! 
Will it damage your sales?
Listen now to discuss the SWEARING conundrum.
You can also listen on iTunes, Stitcher, Spotify, or Soundcloud
Mentioned in this episode:
If you want consistent traffic to your online store, consistent sales, a kickass community of entrepreneurs, and you want to stay accountable so you actually DO THE THINGS…
Join The Club. It's our monthly membership for marketing and sales. super fun inside and we'd love to welcome you in! 
What do you think of this new format? What's your take on being authentically you, even if that includes swearing?
LMK in the comments below. I LOVE hearing from you.
And remember…Perfect is good but DONE is better!
xo -Jane