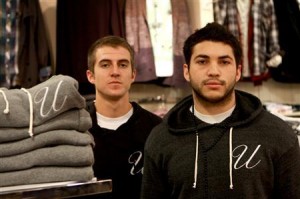 Not too long ago, I talked about 3 questions you need to ask yourself before you launch a line.  Recently I was quoted in a Reuters story  about a great new fashion line that's making money.  Here's how they're following my fashion business "rules."
1. Business person first, creative person second.
UNCL, an apparel brand of super-soft, comfortable hoodies, was created by a former football player.  He wasn't finding hoodies he liked, so he created his own.
As I've said many times, there are a million fashion products out there you need to compete with.  On the other hand, people need to buy clothes — people are buying, so why not your product?
The founder started the company when he couldn't find a comfortable hoodie — what marketers call an "untapped need" — and put all his efforts toward filling that need.To be successful, you need to find a niche: a small slice of the market to make something better, faster, cheaper, or more desirable.  These guys found a niche — comfortable hoodies — and made them cool.  They marketed them by getting NFL pros to wear their line and even have people using their brand name as slang.  "Uncing" means lounging around in comfortable clothing.
2. Got support
Launching a line is too big of a deal to go it alone.  The company's founder included his whole family to invest and provide leads on textiles and manufacturing.  He also got friends in football to wear and talk about his line.
The key here: don't do it alone.  You need a support system while you're starting a business (and afterwards).  A family member, colleague, or friend that you can bounce ideas off and who will listen sympathetically to the latest business start-up crisis is very important.
3. Tons of self-discipline
The founder, Ahmed Mokhtar, is 100% focused on his business.  Once you find a niche, it's no time to rest.  He's constantly looking for better suppliers and manufacturers, as well as continuing to market through aggressive outreach to NFL players to wear his product.  As I mention in the article, one more thing he could do would be to offer limited edition products to add to the "exclusivity" aura.
These guys are making it happen, and it's not by accident.  They're business-focused, disciplined, and getting the help and support they need to launch a line that makes money and has the potential to become huge in the years to come.
What can you take away from their story for your own fashion business?