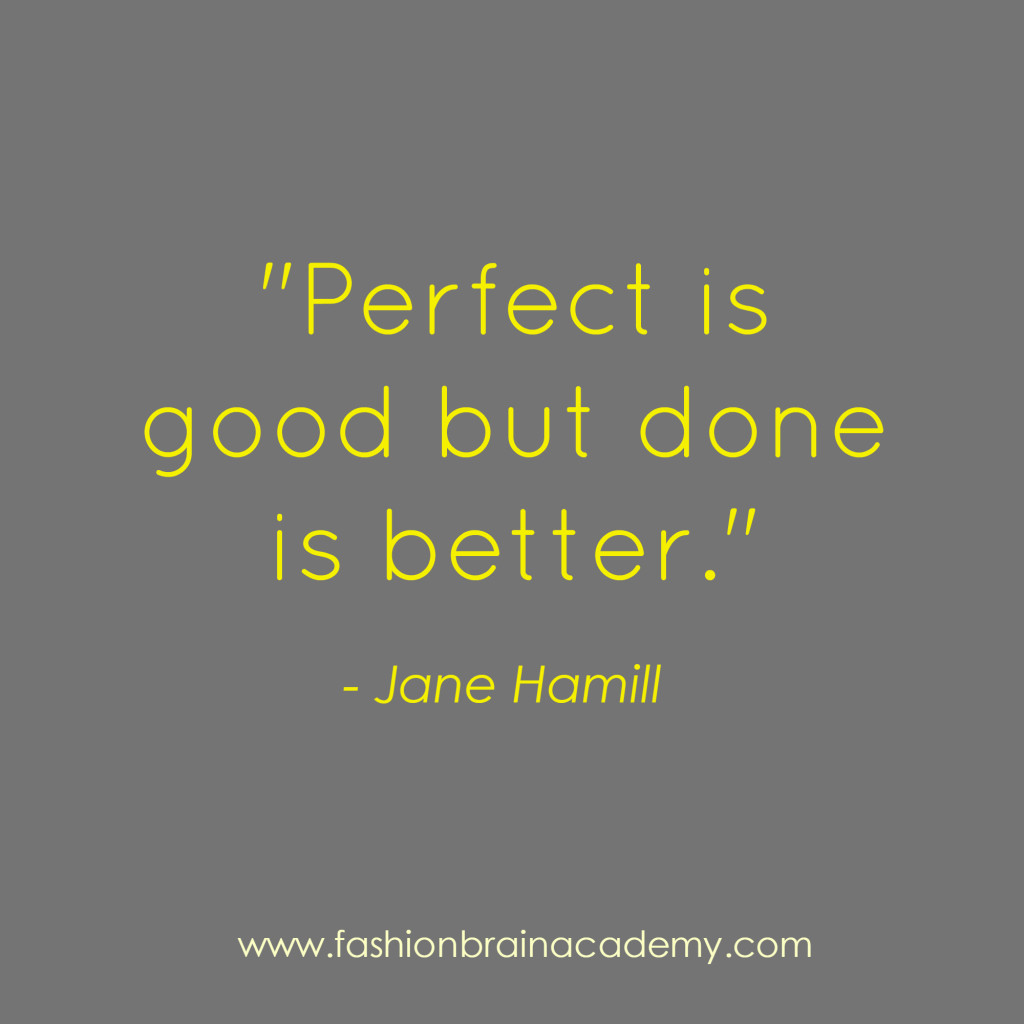 I wrote this post a while back and let me tell ya, it's one I have to dig out every month to send to one designer or another. Turns out perfectionism is running rampant these days for creative types like us. Here's the story…
Last Tuesday
The story starts with a designer, I'll call her Linda, and she is super talented. I'm talking off the charts oozing creativity. And it's EASY for her to be that creative – on a daily basis, without even really trying. She'd be easy to hate if she wasn't so darn sweet and unassuming about it.
And this Linda..she knows how to make an amazing product of high quality and deliver it on time.
So what's the problem?
Aha. The thing is… she cares more about how her product looks than about making a living. Of course, that's not how she sees it but it's true.
She'll spend 6 hours on the perfect neckline finishing (which she does by hand because "no sewing contractor can do it right"). And she knows there's NO possibility that she can recoup that cost. She hasn't built that kind of craftsmanship into her pricing and she doesn't plan to. And she doesn't really care – as long as "the dress is gorgeous and the client is happy!"
Except that she does care because she can't make the rent. That's why she came to me. And it's causing her a lot of stress to constantly be so close to the edge of going out of business. Not to mention she's tired. Really exhausted from so many years of working so hard for so little.
May I offer you a cost sheet?
So we sat down together and I costed out of a few of her pieces. No surprise that her retail prices were WAY too low compared to what a healthy margin should look like. She was pretty shocked to look at the true COGS (cost of goods sold) when it was all laid out in black in white. But Linda is smart and she wanted to find a better way to do business.
We discussed options to improve her profit margins, including:
Charging a lot more for her product, keeping the high-end finishes she loves, and appealing to a different customer
Simplifying her designs and labor to be more in line with her current pricepoint
Designing backwards – meaning designing with production in mind and only doing what can be done for a certain price
Considering different fabric choices (she's an admitted "fabric snob")
Cutting pieces from the line that just aren't profitable
Linda and I also talked about how, in a way, she's been treating her business like a hobby. Ignoring the fact that you're not making money from your business is not OK. Even if it's for the sake of "your art".
The need to make everything perfect was putting her out of business.
The next thing Linda and I did was talk about WHY she felt the need to make everything perfect – even when it wasn't logical. Like many conversations I've had before with many different creative entrepreneurs, I shared my motto:
"Perfect is good but DONE is better" –Jane Hamill
Bam! These are the words I live by every day. It's easy to fall back into the perfectionism trap and honestly, it's a struggle to stay on the straight and narrow.  But the truth is this…
Perfectionism kills.
Kills your business, kills your daily routine, kills our chance to make real money. Plus, it causes a LOT of unnecessary anxiety and stress.
Right now Linda's back in her studio working on designing new pieces that look expensive but are easy to produce and still get her creative juices going. And she's actually excited about it.
In her last email she told me,  "You know, Jane, when you have to work within certain parameters it does add an exciting twist and a little more challenge".
Amen to that
If being profitable is, for Linda, a new and exciting "parameter" she'll work under, I say AMEN to that. She'll enjoy her business so much more when she has some cash in the bank. You can bet on that.
Next week I'll share with you 5 tips for overcoming perfectionism.
So what about you?
Do you have the same problem as Linda (and me)? Here's my question for you.
Can you give me a specific example of perfectionism and what you did to stop it? If you feel it's hurt your business in any way, what was it? Let me know in the comments below!
As always, thanks for reading.
Jane