I guess I really should call this post "You Need a List and Not Just Facebook." Or just Instagram. Or just Pinterest. Because here's the thing…
Facebook is NOT a marketing strategy
Way too many designers are treating FB and Social media in general like their entire marketing plan and if you are, you are going to be very frustrated with your results. " How do I get more likes? How do I send more people to my Page?" Sometimes it seems like this is all anyone wants to talk about. Facebook should be PART of a total marketing strategy, NOT the whole thing.
A better way
Your goal with social media should be to drive people back to your website.  Once they get there, you want to get their email address so you can follow up with them in the future. Not every prospect that lands on your site is ready to buy that day.  Most are not, so they click off and that's it.
Without a way to follow up with the prospect and build a relationship with them, you lose them.  So instead of only focusing on getting more social media followers, here's why you should get your own list.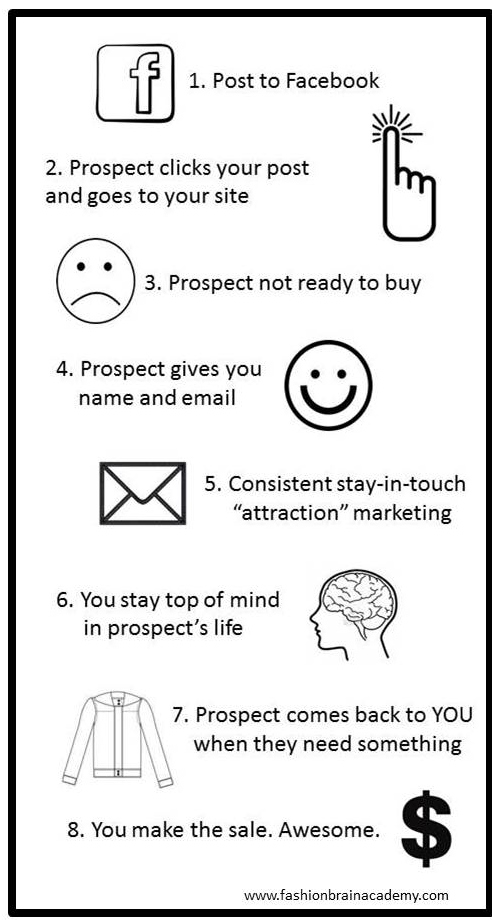 Reason #1) You don't own those names
This actually happened to me. One day I woke up, went to my office, opened my FB Page and found that Facebook had disabled my account. WTH?!! I was shocked. I tried to investigate why and they told me this…
"Upon investigation, we have determined that you are ineligible to use Facebook. Unfortunately, for safety and security reasons, we cannot provide additional information as to why your account was disabled. This decision is final." Sincerely, Facebook
OK, they didn't actually sign their name. But they did shut me down and I still have no idea why and I guess "for safety and security reasons" I will never know. Three days after I was banned I got a simple email telling me my account was back. Apparently "final" wasn't so final after all. I received no explanation, no apology, it was totally messed up. I got my Page back but I'll never forget that I'm just "renting" from FB and they run the show. They can pull the plug or change the rules at any time.
Think about it, do you really want another business in control of your customer base?
So use Facebook – it's a terrific tool. But remember to use it to drive traffic to your own list – the one you own and NO ONE can take away.
Reason #2: Not all your Fans see your posts
Believe me it's not about the number of fans. It's about the quality of the fan base. Are they your ideal customers? Can they afford to buy what you sell? While FB is changing all the time, basically the way it works is this. They "show" your post to a certain number of your fans – the ones that engage with you, meaning those that tend to LIKE, SHARE, and comment on your posts. For the other fans, your posts never show up on their timeline.
For instance, if I share a link on my FB Page, I might get 4 – 12% engagement – at best.  When I share a link with my email subscribers, I generally get up to 28 – 35% engagement and sometimes even up to 65%!  Also, since my email list is 3.35 times bigger than my FB Fan base, that's a LOT more people.  Now, I understand that engagement does not mean actual sales, but I KNOW that the more people you send to your website, the more sales you will get.
Reason #3) Email still works best
Many of us find it a lot more fun to post on Facebook than to send out regular emails. I am not one of those people, but I get that social media is sexier than email. How can you NOT love looking at Pinterest – all those pretty pictures? But honestly, I don't really care about what I ENJOY doing, I care about what gets the best results and converts into the most sales. And that is Email. It's not sexy, it's not new, there is a lot of competition, and it's still the BEST way to keep in touch with your customers.
And for those of you who are afraid to "bother" people with your emails, I get that too. No one wants to add to the "noise" out there and I used to feel the same way. But If you're sending out consistent, high value content that is designed around the lifestyle of your customer, people will love it and THANK you for it. And when you mix this high value content with offers to buy your product, you have a winning strategy.
But Jane, I don't know HOW to do it
Is this what you're thinking? I don't have time to send regular emails, I don't know what to say, no one is interested in me, that sounds like a lot of work, isn't there an easier way?
I used to feel the EXACT same way!
I had a Business Coach who explained the value of emailing your customers regularly with valuable content – not just offers. I hated it at first. And then I realized it was a chance to actually interact with these people, not just pitch them. And I started to like it, a little. And THEN I started to see direct sales from the emails, and I started to like it a LOT. And then I started being consistent with my emails and saw better results, and I started to LOVE it.
Oh, and BTW, if you want to learn how to market with email and do it in a way people love, I can give you a step-by-step system so it won't take up your entire week. My "20 UP" Marketing Course for designers will give you everything you need for a simple, easy-to-implement plan to market your business and grow your sales by 20% in the next 6 months.
Now it's YOUR turn. My question for you is this. How often are you emailing your list? Do you have a list? Tell me what you're up to! What's working for you and what's NOT working. I'd love to hear it – just leave a comment below, OK?
As always, thanks for reading!
Jane