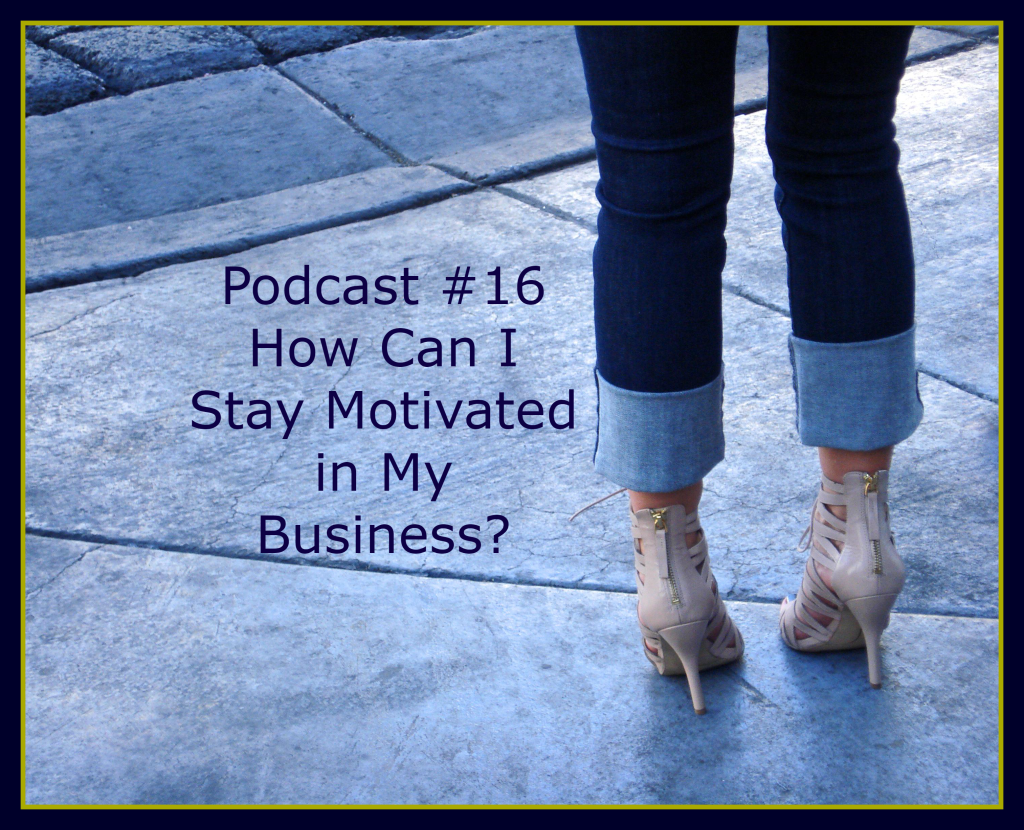 In this episode of the Fashion Brain podcast, I answer a question from a designer about finding motivation to keep your business running.
Q:  "Jane, I am loving your new Podcast, or "Fodcast" as you call it. I wonder if you would consider answering my question? How can I stay more motivated in my business? I've been doing it 2 ½ years now and overall, it's good. My business is growing slowly but I'm still not making enough money to support myself completely and some days that just gets me down. I end up shopping for shoes online or perusing Pinterest instead of working. Any advice for me?" Thanks in advance! Your business crush, Dana (in Los Angeles)
A:  Well, Dana, you're in luck because I can definitely relate! I think we've all been there and there's usually a reason for this lack of motivation. The first thing I would probably ask you is when was the last time you had a vacation or some time off? If you take that issue out of the way, I have 3 things to share with you about staying motivated.
Listen up for my 3 strategies (20 minutes)…  
You can also right click this link and "save as" to download the mp3 to any device.
In this episode, we cover:
What seems like lack of motivation but can really be THIS
Why we feel wishy-washy about work some days and how to fix it
How to run a marathon and actually finish it (you'll understand if you listen!)
Setting a simple goal that you actually REALLY want to make happen
How deadlines can actually help you have more fun at work
Long projects vs. short term projects
Why we all need to feel connected – even in business
Why motivation's like taking  a shower
Negative effects of not knowing where your business is going
I also talk about the relationship between "connectedness" (assuming that's a real word) and happiness – and I think happiness includes feeling motivated to go to work. In my experience, what works for your personal life is the same for business. Here's what PBS has to say…
"All of us need other people in order to be well and thrive. We feel better just being around other people. And we need close relationships in order to be happy." – PBS website 
PBS also goes on to define the characteristics of a "close relationship" which includes:
Mutual understanding
A source of direct help in times of trouble
Celebration of good times
Validation of self-worth
A diversity of ideas and influences to help us grow and learn
Fun
And when you think about it, wouldn't you and your business be better off if you felt you had a place for theses things in your business? If you had place to turn for a "source of direct help in times of trouble", a safe place to embrace a "diversity of ideas and influences to help us grow and learn", and peers to celebrate good time with and share "mutual understanding" of running a fashion business??!!! Hell yes! (That's why I offer this marketing mastermind group and this one for startups).
So now it's YOUR turn. Did you like this episode? If you did then please LIKE it and SHARE it. I would appreciate it more than you know – as I want to get this in the hands of more struggling designers and creatives.
And don't make me do all the work here, OK? The BEST PART of my day is hearing from YOU! ANd yes, it does help me stay motivated. Can you give me a specific example of one thing you do to stay motivated?
Or, can you tell me about a specific time when you didn't feel motivated but you pushed through it? What did you do? What works for you? Just leave a comment below.
As always, thanks for reading and listening!
Jane