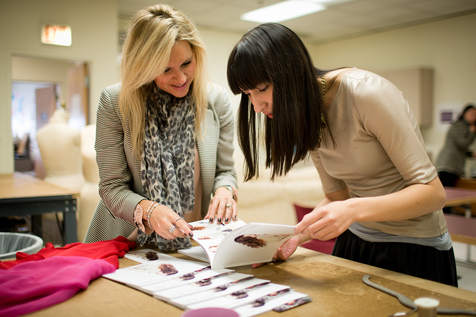 Your business is doing OK, you're rolling along, But are sales where you want them to be? When you send an email to your list, do you get the response you're looking for? Are the people who buy from you just regular customers or raving fans?
Let's take a look and see if it's time for a Marketing Makeover. Oh an by the way, here's my definition of Marketing (because it's a confusing term sometimes):
"Marketing is everything that your company does to connect with the outside world. Everything. The aim of marketing is to know and understand the customer so well the product or service fits him and sells itself."
Here are 3 signs that your brand is ready for a change.
1) You don't know how to connect with customers
If you're not sure who you need to connect with and where to find them, then you could be wasting a truckload of time and energy building relationships with prospects and spending time in places that won't drive sales. What you want to do is define your perfect customer (target audience) and decide how to talk to them in THEIR language, so they really understand what you sell is for THEM and only them. Do you know what kind of information they want to get from you? What conversations they want to have with you?
2) You only talk about yourself
I see this all the time with emerging designers as well and big brands. In Emails, Facebook posts, Tweets – it's all ME ME ME! Look at my brand! Look how wonderful my product is! Want to know what's new with ME?! The trick is to strike a balance between promoting your brand and actually being social. Just like in real life, if you only talk about yourself all the time, no one will want to hang out with you. People do not go to social media just to hear your marketing message. It's a place to get to know people and build a relationship with your customer. One that goes both ways, like an actual conversation. Your role should be to engage people in meaningful conversation, provide value, and share information about yourself and your business.
3) The "me too" problem
If your competitors' message look just like yours then it's time to wake up and make a change. I know it's safer and easier to make your marketing look like everyone else's, but it's a sure-fire way to lose your voice. Determine what differentiates you from your competitors and what actual benefits you can deliver to customers that your competition doesn't. The idea is to understand what people really LOVE and want from you and then do it YOUR way. Dare to stand out. Dare to be criticized for your marketing. At least people will notice it – rather than blending into the vanilla crowd of designers out there who aren't willing to take a risk. Once you know what makes your brand truly different, it's time to make sure the world knows about you in a BIG way.
So maybe you're wondering if your marketing needs work. Perhaps you're thinking,
"Jane, I KNOW I need a change but I don't know what to do."
No worries, help is on the way. Join me for a free Webinar on Thursday, January 16th, 2014, at 1 pm EST. It's all about how to GET FOUND online – by the right people (those who like what you do and can afford to pay for it).
Here's what you'll learn on the Webinar:
My "Simple Six" Step Marketing System that I've quietly been testing with a small group of designers – and it's kicking butt
What's the ONE thing that keeps most designers from making enough sales and getting enough customers
How to know what message to use to tell your story for YOUR specific customer

What's working RIGHT NOW and what's NOT to get traffic to your site that converts to sales
FREE Webinar
"The Online Marketing Strategy That's Working RIGHT NOW for Fashion Designers"
Thursday, January 16th, 2014, at 1 pm EST (10 am PST, 12 pm CST)

Click to register now (it's free!): http://bit.ly/1cUVxBk
Did you like this post" The click the LIKE button and tell me… What's the ONE thing you took from it that you can start using right away in your business? Just leave a comment below – I would love to hear from you.