Uh well, yeah.  Sort of.
Well, OK, not just to hear me.
But even if the 4,000 people aren't ALL coming to hear me.   They are coming.  Maybe they're coming to talk to Kiran Advani, or Susan Aurinko, or Steve Robinson…
Creative Chicago Expo – Saturday, 3/12, 10 am – 5 PM at the Chicago Cultural Center http://bit.ly/eJMAVr You do not need tickets, you just show up. (The one exception is if you make an appointment with an expert.)
It's ALL DAY – Free – and cool.  25 different workshops, experts, vendors etc. connecting Chicago's Arts Community.  And not in a facebook/twitter sort of way.  (Not that there's anything wrong with that…) But this is more like an "I met you and why don't we work together soon now that I see your face and you look OK to me and you seem really smart" kind of way.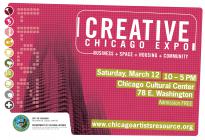 Who should come? Creative people working in dance, music, film, fashion, theater, visual arts, literary arts and design.
When's my workshop? Saturday, 3 PM,
Location: 5 Garland – in the Chicago Cultural Center.
My workshop topic: What to Charge: Pricing Your Work.  Want to make money or prefer to go broke, huh?  Creative people in all different fields face the same tough question of what to charge.  I'll give you the tips that worked for me, my clients, my sister the painter etc, etc…
Check out the schedule and all the cool stuff: http://bit.ly/eJMAVr
C'mon, come out from behind your computer and meet me there.
P.S. For those of you who are designers, don't forget about Line Critique – the private workshop where the dynamic duo that will help you get your collection in shape to appeal to retailers. Invest in your line now, so you don't screw it up for later! (I know, I know, it's a bit harsh.  But true.  Birgit and I will save you a TON of hassle, time, and money in the long wrong – I KNOW this to be true and I've seen it too many times to count.) You can do your line review during a VIP day: http://janehamill.com/blog/vip-day/
Have a good one!
Jane