5 Ways to Make Money This Weekend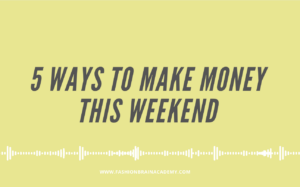 Many of us work last-minute so if you've put off planing your promotions, this is for you. I taped it with Memorial Day weekend in mind but most of these marketing and sales tactics can be used any time.
Want some quick sales?  Let's go!!
Here are 5 things you can do right away to get some $$.
Offer a special bundle
Leave the house
Send 10 emails
Make a video showing what you have
Build/nurture relationships
Don't stress if you're working last minute. Just choose one of these strategies and get started! #3 only takes 1o minutes! You got this.
Listen now so you can execute this TODAY!
You can also listen on iTunes, Stitcher, Spotify, or Soundcloud.
Links: 
Hit me up in the comments to let me know which one you execute. I love hearing from you!
JH