How to Deal With a Mad Customer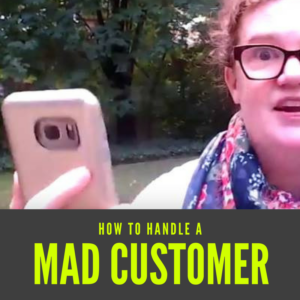 I just got off the phone with a MAD customer! Yup. It happens in every business. You get the occasional angry customer and it can be tricky to deal with it.
You see, over here chez Fashion brain we've been having crazy awful email problems over. If you've been trying to reach us via email and received NO RESPONSE, my apologies!! Turns out that about 7 days of emails got bounced and disappeared into thin air. 
How does that even happen???!!!
Anyway…
The problem is fixed now but the way I found out about the issue is an ANGRY email from a dissatisfied customer. It was so bad that I IMMEDIATELY picked up the phone to call the client and see what I could do.
This quick video tells the story and gives you straightforward tips about how to handle a MAD customer with grace.
Now I have a question for YOU. Have you had to deal with a ticked-off customer? What happened? What did you do? LMK in the comments below.
Thanks for watching (and reading)!
Jane