Fashion Startup Challenge
Day Five: Where to Find the Money for Your Business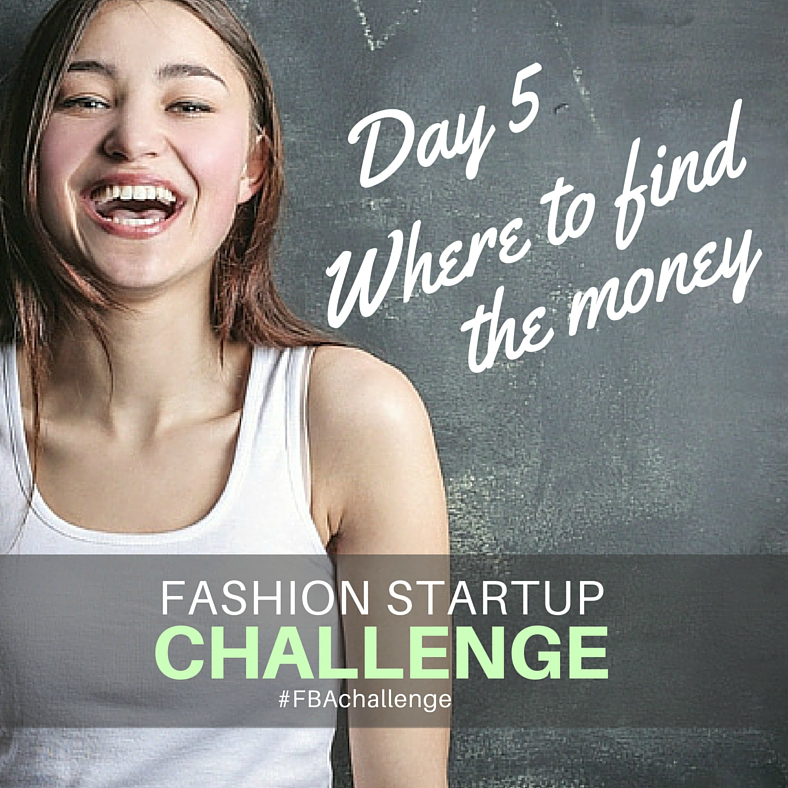 Welcome to Day FIVE of the Fashion Startup Challenge -Where to Find the Money for Your Business
If you missed the previous challenges, scroll down to the P.S. on this page for access.
Today's all about money – where to find it, what's important to spend on, and what you can skip. Here we go:
1) Top 5 Ways to Fund Your Apparel Business – Avi Levine of STAR Funding and MyFashionFinance.com
Click here for your PDF download:
2) Creative ways to finance your business
Your download in #1 covers to typical way entrepreneurs find money. If you want to cover all your bases, take a look at these funding possibilities:
Kiva Zip. Lenders make microfinance loans directly to borrowers in the U.S. via the Internet.https://zip.kiva.org. You can also check out the "regular Kiva here:
Do a Google search for microloans your city name (i.e. "microloans Chicago").
SBA (US Small Business Administration). The SBA has a microloan program: https://www.sba.gov/content/microloan-program
Accion lends money and has lending partners that can help: http://us.accion.org/
Zimple Money. A great tool to facilitate loans from family and friends : http://www.zimplemoney.com/
A way to get cash FAST (working capital) with high interest rates (sometimes 20%) and very little paperwork. They approve small business loans by looking at real-life data (like social media), not just a credit score: https://www.kabbage.com/
Your City's Arts Organization. I've worked with designers who have each received a grant (not a loan) of $5000 for their business from the City of Chicago. Many cities have similar programs.
3) Know where it's OK to spend your money and where you need to save
It's hard to know how to use the money you have – what's worth spending on and where can you skimp? I learned the hard way by wasting SO MUCH money on unnecessary stuff. So I created a cheatsheet for you, DO SPEND / DON'T SPEND.
Print this out, paste it on your wall, and do what it says: http://bit.ly/dodontspendFBA
YOUR CHALLENGE:
1) Spend about 20 minutes going through the stuff on this page. I suggest you take good notes on what interests you so you can marinate on all the possibilities tonight and go back to do more thorough research later.
2) Decide if you're a HO or a BO. Business coach Suzanne Evans has a great expression, do you want to be a HO or a BO? A Hobby Owner or a Business Owner? If you're a hobby owner, that's cool, I'm not judging here. Do your thing and do it in a HOBBY way. If you're a BO, that means you're serious. That means you're in it to make a viable business, support yourself and your family, and do what it takes to succeed – even when it's uncomfortable or scary.
To be a true BO, you need a certain tolerance for risk and a true commitment to your future.
John Assaraf says it best… "If you're interested, you'll do what's convenient. If you're committed, you'll do whatever it takes."
YOUR NEXT STEP:
Decide if you're a HO or a BO. Are you going to keep things a hobby or are you gettin' truly serious as a BO (business owner)?  Then TELL ME what you decided!!
IF YOU'RE SERIOUS ABOUT LAUNCHING A LINE
If you decide you're a BO and ready to be a real Business Owner, here's your next step…
In order to start a profitable business, you don't want to rely on trial and error. There's no need to waste valuable time and money "figuring things out" o your own when you can learn from someone who's done it before successfully.
I can give you a step-by-step blueprint of how to launch a clothing or accessories line so you'll understand exactly what you're getting yourself into, what to expect, and how to be as prepared as possible. My best-selling startup program is all about the BUSINESS side of launching a clothing or accessories line.
If you like what you see, use coupon code CHALLENGE2 for $100 off the tuition, Bam. The course starts as soon as you register, all online, at your own pace, and the next BONUS startup "mentoring week" begins January 15th, 2018.
Make 2018 YOUR YEAR and join me in the startup program! This challenge is the FREE stuff – imagine what you can learn and where you can go with the full course??!! I'll see you in the members' area tonight!
Jane
P.S. $100 OFF the New Designer Program startup course is good for the next 5 days ONLY. Coupon code: CHALLENGE2
That's a wrap! I hope you liked the Challenge.
I'd love to know what you thought of this challenge and your #1 TAKEAWAY. Let me know!! Just leave a comment here, on my FB Page and use hashtag #FBAchallenge so I can find it, OK? 
https://www.facebook.com/janehamillbusiness/
Jane
P.S. If this Challenge has helped you, will you do me a favor and SHARE it? It would mean a lot to me. Here's the link to post and share: https://fashionbrainacademy.com/startupchallenge18/
P.P.S. If you missed Day One's Challenge, click here, Day Two, click here, Day Three, click here, Day Four, click here.