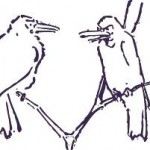 So did you start your blog yet? Not sure what to write about? Before we get to ideas, Erika Gimbel is back with tips and examples of great blogs, and also the big DON'Ts – stuff you should NOT mention no matter what! ~Jane
So, maybe after hearing about how a blog can help your fashion design business you're considering starting one.  Or maybe you already have!
The most important thing to remember: your blog is about your BUSINESS.  That doesn't mean that business can't be personal, or that your blog has to be bland or boring.  But what it does mean is that each post needs to appeal to your audience, to make them think, "Hey, I really want to buy something from this person."
So how do you know what's too personal to share, and what's not? How much should you talk about your products?  Take a look at this list of tips below which can help you decide what to write about and what NOT to mention!
DON'T get too personal. This means: don't share what you had for breakfast, if you had a fight with your significant other, or that you're off to go play tennis (I swear I have seen this).   If you really want a diary, start a personal blog.
DO let your personality come through. On the flip side, people really like knowing they're buying from a real person, and they want to LIKE that person.  Make your posts relevant to your product and your design ethos.  Say your sister is due with a baby: share photos of what people wore to the shower (and the better and more professional the photos, the better your image…).  If it's the middle of a massive heat wave, write about what you would wear.   A great example of sharing the personal and making it professional is Urban Grace. Written by an interior designer, she recently included a post about her family vacation.  While this could have turned bad, the beautiful family photos depict a lifestyle that gives you a sense of what she's like and her design sensibility.
DON'T talk about money problems. Maybe you are low on money (it happens!).   Maybe costs are going up and you're going to have to raise prices.  Don't mention this AT ALL.  If prices go up, they go up.  If people see you have money problems, it's not going to encourage them to buy from you because they feel bad; in fact, the opposite happens: people are attracted to buying from people who give off an aura of success.
DO share happy customer stories. Even if they are members of your family.  Talk about how your designs worked for a certain event, or the feedback you got at a trunk show.
DON'T let feedback get you down. People may comment on your blog, and some might not be too nice! Keep in mind that a lot of people are mean online because they can be — they're anonymous!  While that might not be too mature, go ahead and delete obvious, mean spam.  On the other hand, keep comments that add to discussions.  Sometimes, answering critics can turn them into faithful fans.
DO get discussions going. The more active your blog, the more search engines like it. So ask questions of your readers, get opinions, and, as the previous "don't" says, don't let negative comments get you down!
DON'T write a book. If you find that your average blog posts are more than 600 words, consider breaking them down.  Long blog posts are fine if there's a ton of information, or if they are instructional, but for designers (and their customers), I would guess you don't need much.  200 words, and even just photos and captions, work great for fashion design blogs.  If you've got more to say, break up your ideas into separate posts.
DO go heavy on photos. Design is visual! Your readers want ideas an inspiration.  Check out this blog by fashion designer EmersonMade.  It's mostly photos, with a few captions and paragraphs of goofiness.  But the professional-quality photos and the writing give you a clear sense of the brand — fun but sophisticated, internationally inspired.
DON'T just sell. Got new products?  Great!  But don't make your blog one big sales pitch.  There's so much you can write about that will still help sell your product, and YOU as a brand.
DON'T be afraid to link to your products. On the other hand, you can definitely merge selling with you blog.  One example is is interior designer Jamie Meares of i suwannee. Definitely check it out for inspiration.  She successfully blends fashion and other stores' products into her blog, while artfully mentioning the products she's selling in her own online store, as well as her own design projects.  She gets personal (she talks about her birthday and her dog) but you'll see it's all in the context of fashion and design.
In contrast, EmersonMade is almost exclusively product-focused, but somehow she does it in a non-salesy way, and she does mix in inspiration from her travels and life on the farm.
If you have a blog, what do you write about?  Which fashion design blogs to you love?
This post is by Erika Gimbel, a Chicago freelance writer. Next up: 10 ideas for your fashion design blog.