"I feel like I'm working all day and getting nothing done."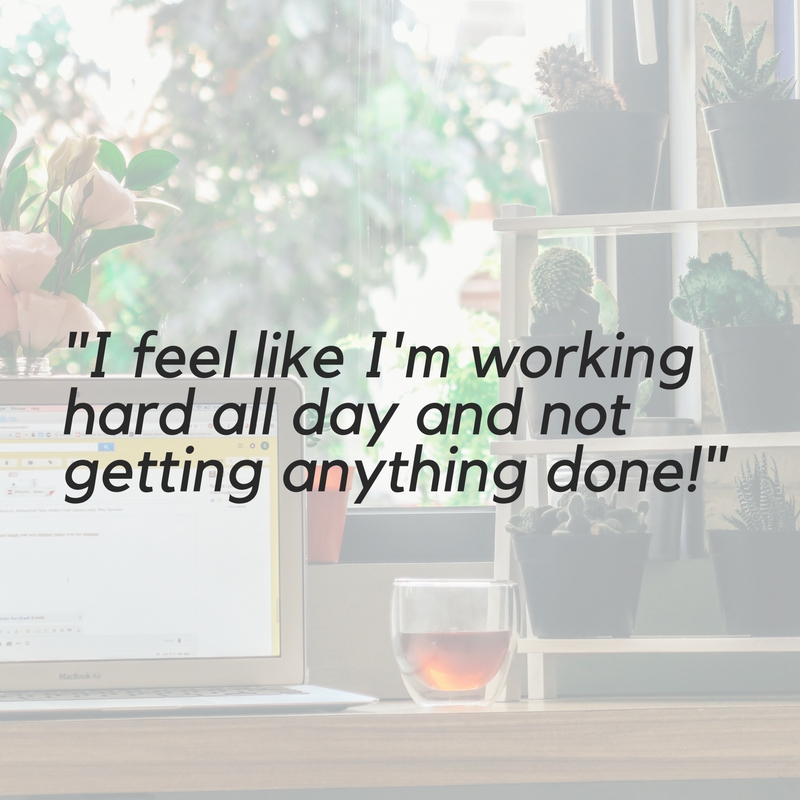 This statement popped up this morning in my marketing group (SMPO) and it's something we ALL can relate to, right?
I'm re-posting on the reply I gave my student in the private group because I think it could help you too. 
The issue mentioned – working all day and not getting anything done – is easy to slip into.My hunch is that it's a mindset thing re: too many goals at once – perhaps unrealistic – and not truly setting aside time to prioritize and think straight.
EVERYTHING you do can be through the sieve of..
what are my 2 most profitable products? and then…
who are my MOST valuable customers?
If you're doing work that doesn't have to do with these 2 things, figure out why. Here's what I suggest.
1) Do a brain dump of everything that you want to accomplish. EVERYTHING – big and small.
2) Decide what ONLY you can do. Be honest.
3) Next, determine what you can outsource, delegate, or just delete completely. Even if you don't know who you would outsource something to, you know it's possible.
4) Add names / initials/ services (like Fiverr or Upwork) next to all the things you can delegate so you know who can accomplish it so it's not actually YOU.
5) Next, start putting dates next to the most important projects. For instance, doing your line sheet is Q1 2018 but updating your site can wait until Q3. Add WEBSITE into your Q3 calendar for 2018 so you don't have to worry about your site right now and you've freed up brain space.
6) Wake up every single damn day and ask yourself, "What can I NOT do?" What work actually gets results and what can I just NOT do at all or delegate?
7) Stay the course and trust that saying NO to some things creates energy and productivity in the things that actually STAY on your list.
I hope this helps! – JH
P.S. The marketing group I mentioned is from the "Sell More Products Online" (SMPO) program and you can find it here: http://janehamill.com/sellmore You can start any time and get access to ALL recordings and training.