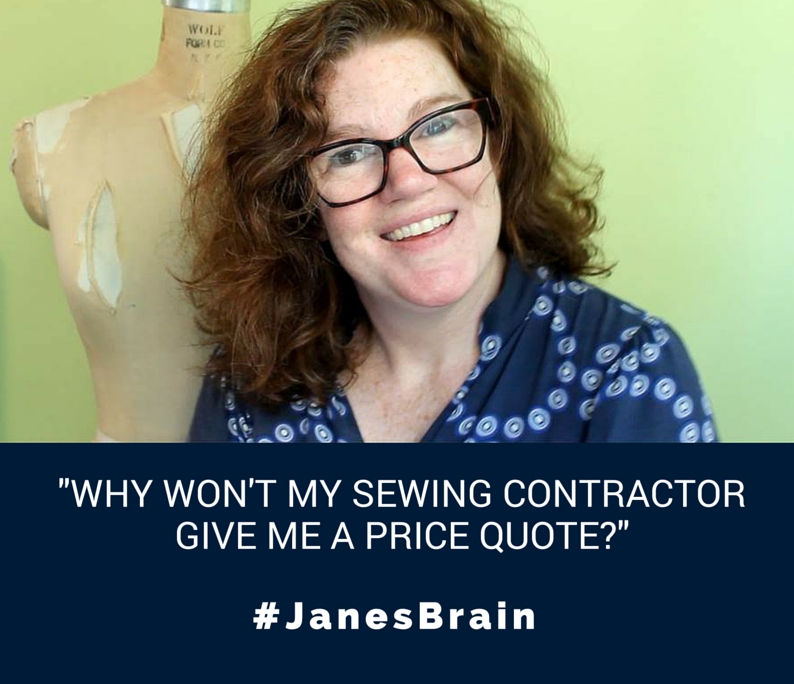 Today's #AskJanesBrain video answers a questions from an emerging designer, Jill, about getting price quotes for manufacturing from a sewing contractor. Jill just had her FIRST MEETING EVER with a factory (go Jill!!) and what the factory head told her seeems strange. Almost like they're scamming her because she's a newbie designer.
Watch the video to hear Jill's problem and what she can do about it.
Whaddayathink? Has this happened to you? Have you had your first factory meeting yet or do you remember your "first time"? If you have, tell me about it in the comments below. I'd love to hear how it went and what we can all learn from it!
I want to hear from you!! Stop lurking and leave me a comment below – show me you're alive!!
Thanks for watching!
Jane
P.S. BRAND NEW ONLINE TRAINING!!!
"How to Work With a Sewing Contractor" is coming up September 25th, 2015. It's going to be THREE HOURS of vital information for emerging designers. If you can't make it LIVE, you can still register and get the complete recording and all the downloads etc.
Click here to check it out and register: https://fashionbrainacademy.com/events