Podcast: What Are the Signs That One Fashion Business Will Succeed and Another Won't?
Interview with Nicole Giordano from Startup Fashion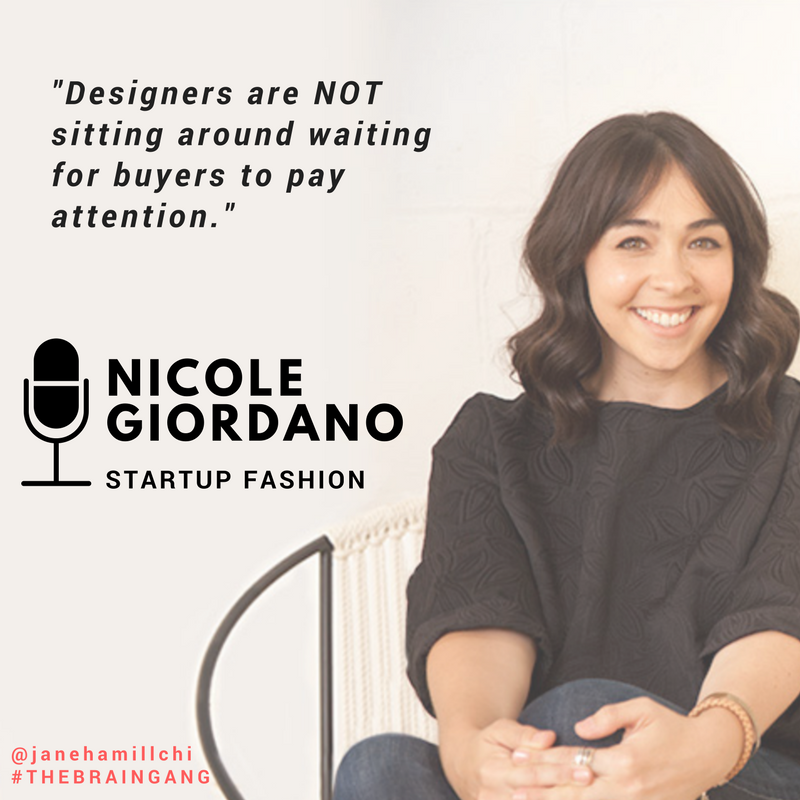 I was looking for a fresh perspective on "the state of the independent fashion community" so I reached out to Nicole Giordano from Startup Fashion. 
Jane: "Hey Nicole! Would you be up for a podcast interview? I'd love to ask you about all the different business models you see in your community, what's working now, and what are some "signs" that one designer will succeed and another may not?"
Nicole: I'd love to! The 31stand the 2nd are pretty open for me. I'm currently on a 16 hour flight from South Africa back to NYC. ::sigh:: I'll be in touch soon.
Jane: "Awesome. Hit me up when you get back."
Nicole: "Hi Jane. I'm back! What I'm seeing in the brands that are starting to get traction is…."
And then she SPILLS IT – the insider stuff I was looking for + her honest, fresh perspective. If you haven't met Nicole yet, you're going to love her. She's the real deal. 
Here's what we cover:
Starting your clothing line with a signature product, not a full collection
Why the traditional fashion calendar is broken 
What designers are doing NOW in Nicole's community and what's working
A new approach to selling wholesale to boutiques
Running your business like a business
The monthly framework for assessing your business
As a business owner, excitement and fear are the SAME feeling
One brand's brilliant strategy to get started with sales
Content marketing – is it worth your time?
Listen to it here:
Watch the VIDEO version here:
Show notes:
Mentioned in this episode: 
Fabled: medical scrubs that are actually cool
What do YOU think?
Did you like this interview? Do you have a question for me or Nicole? LMK what you think in the comments below. YOU are the reason I do this and as Gary Vee says, "Your comments are my oxygen."
Thanks for listening, 
Jane
P.S. If you want to know how I started own clothing line from scratch when I had no experience, no money, and no flippin' clue what I was doing, click here to hear how I did it (it's free, btw).