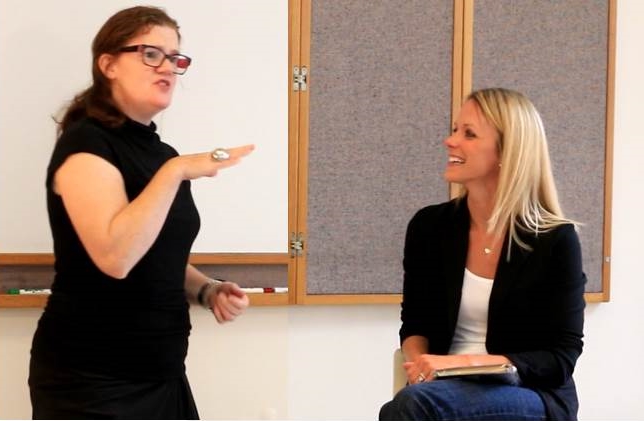 Uncertainty sucks.
We all struggle with it. It's hard to know what to do NEXT in business. Which product should I launch next? What if I don;t know what it will cost me really?  What if my idea isn't really that good? What if no one buys my clothing line – accessories – jewelry – widgets?
In this video clip, you'll meet Anne as she takes the "hot seat" during my live startup Bootcamp and I coach her through:
Kicking around the idea of launching for a long time but "life happens"
Having 2 great ideas for products but unsure which to choose
Afraid if she starts one that means the other business idea is closed forever
Feeling "stuck" with indecision (and fear) and tires of feeling like this
After the hotseat coaching session, feeling "10 pounds lighter"
Anne is honest and direct in this HOTSEAT coaching session – and she puts it out there for all to see. I wish every designer I met was willing to take a risk like this.

This is a clip from a LIVE event for startup fashion designers. Future event dates are here.
It's hard to pick my favorite quote from this video…
"I've been kicking around the idea of going into business for a while now but life happens…"
"I feel 10 pounds lighter already!"
"I finally feel like I'm ready for that…"
"I wanted to start out doing an entire collection inspired by the beach…"
"Can I compete on price?"
"My other option – instead of doing the beach inspired line – is to start with a line of…"
Which quote do you like best?
Please pick one and tell me in the comments below. Also, if you have one piece of specific advice for Anne, PLEASE leave it in the comments below and show me you're alive!
As always, thanks for reading and watching,
Jane
P.S. The next Live startup event, the "Launch a Line" Breakthrough Bootcamp – is happening September 12, 2014, in Chicago. If Anne can get clarity from a one-day event, why not you too? It's your chance to get a PLAN for your business. Check it out here: https://fashionbrainacademy.com/events/