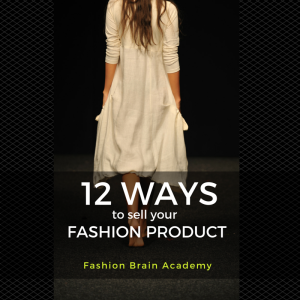 Deciding how to sell your clothing, jewelry, or accessories line can be daunting. Gone are the days of just selling wholesale because that was the only option.
I get asked this question every week, "Jane, what's the best way to sell my clothing line/accessories line/jewelry line/ baby product /artwork/candle line?" It all depends on you (and yeah, I get that makes it harder for you to decide). If there was a magic formula, I'd give it to you.
But deciding how you're going to sell your line really depends on your financial goals, your personal goals and vision, what product you sell, and your target customer.
I put together a list of 12 ways you can bring your fashion product to market.
Sell Your Line Online
You can set up your own online store, of course, sell on Etsy, or sell to online stores. A lot of designers I work with are setting their site up on Shopify, which is a great platform. The problem comes when entrepreneurs have a "build it and they will come" mentality. You need a lot of marketing to get eyeballs on your site, and then you need to know how to turn that traffic into paying customers. I love, love, LOVE this business model but it's not as easy as it looks.
Sell Your Line at Home Parties
These are NOT your Mama's Tupperware parties. Check out Cabi – last I heard it was a $250 million dollar company. That's a lot of Tupperware. Other big players in the direct sales market are Stella & Dot and ETCETERA.
Sell Wholesale to Boutiques, Gift Shops, Museum Stores, etc
The great thing about selling to boutiques is that you can really build a relationship with the buyer because she/he is often the owner. This type of continuity can make you and the boutique real "partners" in this business which can help in a few ways; if you deliver late one season, for instance, they'll still trust you and also the ability to get valuable feedback from the buyer about your line. (For tips on increasing the size of orders, watch this video). 
Sell to Department Stores
I put this one in a different category than selling to boutiques and that's because I see them as 2 completely different things. Selling to big box stores is definitely not recommended for new designers. The water is shark-filled and this sales avenue should be avoided until you get your sea legs – after a few seasons.
Sell Through Pop-Ups & Trunk Shows at Boutiques

I love trunk shows as a way to sell your line. In this case, when I say trunk shows I'm referring to selling at a boutique for 1 day or even a few hours. Retailers like trunk shows because they don't have to place an actual order up-front which means there's less risk for them. The advantage of a trunk show to clothing and jewelry designers is that you get access to all the store's customers without having to do ALL the marketing. And even better? You get to meet the customers and get valuable feedback from them about your fit, style, colors, etc.
Sell at Markets, Art Fairs or Craft Fairs
Selling your clothing or accessories line at a street fair will give you instant gratification. The customers pay retail prices and you get the money right away. You also get the interaction with your customer which is hugely important.
Open a Retail Store
This is how I started my business but I wouldn't recommend it to too many designers in the beginning. Why? Because the overhead is very high and you really want to get a sense of IF and HOW the market is responding to your line. I suggest you work hard to get proof of concept before you invest in a retail location. If you're thinking of opening a boutique, you can learn 10 lessons I learned in 10 years of retail in this podcast episode – find it here on Apple podcasts.
Sell Through Private Label
Private label means that you produce your product and put another company's label in it. For instance, Macy's house brand is likely produced by another company that has their own branded line, and then they make separate section of their line to be used exclusively for Macy's with the Macy's branding.
Sell Your Product Using a Moving Store or Mobile Boutique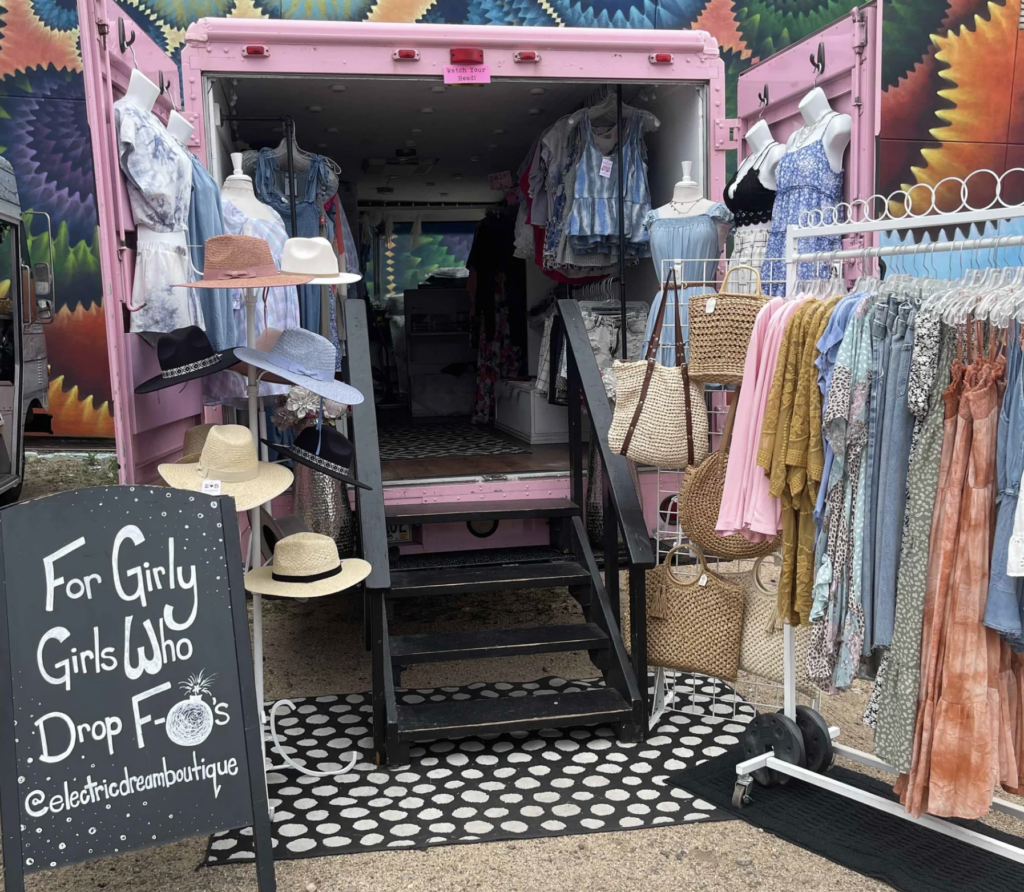 Think food truck but for fashion, jewelry, and accessories products. What's cooler than a truck full of fashion items that will come to your door? There are a lot of different ways this could be re-invented for different niches. A student in my retail class designed a truck that sold ice cream + funky ice cream themed T-shirts. It was kitschy and hilarious and I think it could make real money.
Sell Your Line Through Subscriptions
Think Birch Box for clothing. If you're not familiar with Birch Box here's how they describe themselves; Combining "monthly deliveries of personalized makeup samples with original editorial and an exciting ecommerce shop. It's easy, efficient, and fun—a monthly delivery of surprise and delight." I believe in the subscription model and would advise designers to get some sakes first and proof that your product is selling before you set up a subscription business model.
Social Media
Lots of businesses are using social media for business, of course. And for some designers, using Instagram & TikTok is one of the main way they get sales when they first start – there's no website, no blog, and no Facebook, etc… This is NOT an easy way to run a business in the long-term and no one wants to rely on algorithms for their livelihood. But social media can be a great tool when used properly. 
Sell Your Fashion Line with a Pushcart
Whaaaaa??? Before you roll your eyes, consider this true story. A designer I met a while back was selling a $45 item through a cart in a mall. Her sales were $10,000 per month from 1 cart! Imagine if you did this in more malls. Could be very interesting…and potentially a great money maker.
And That's Not All…
I see designers crushing it with other selling avenues too, including:
Events – Lollapalooza, festivals, conferences
Store-in-a-store – selling by taking over a section of a hair salon, yoga studio, spa…
Making uniforms (for hotels, restaurants, airlines)
Amazon, Etsy
On TV – like actual television – QVC, HSN
Licenses
Discount websites (The Outnet)
Flash Sales (Your own sale or Ideeli, Gilt, Rue La La)
Crowdfunding sites (Indiegogo, IFundWomen, Kickstarter)
Email list ONLY – get on the list if you want to buy, no website
Confused About What to Do First?
If you haven't started selling yet, I urge you to do your research, get an education, and get some contacts in the industry. You can make a great business using any of these selling strategies. It all depends on your goals for the business, your product category, who you want to work with, and HOW you want to do it.
I started my business when I was 25 – with very little money, very few "connections", and very little life (or business) experience! I made a great living using my creativity for over 14 years (until I sold the wholesale and retail sides of my business). Believe me… there's nothing so special about me – I'm no smarter or more creative that YOU!
If I could do it, you can do it.
I firmly believe that.
Want help? If you want the entire business blueprint for how to start & grow clothing line course that makes you money, we have a course for that. Hundreds of students have taken our New Designer course and it teaches you proven strategies to set up your clothing or accessories brand the "right" way – so you don't end up with a garage full of inventory you can't sell. Check out the start & grow a fashion line course here. 
Your Turn. I'd love to know…
1) Which is your MAIN sales avenue?
2) Which of the options on this list intrigues you most?
Let me know in the comments below. Stop lurking and start talking back to me! I'm listening…
As always, thanks for reading.
Jane