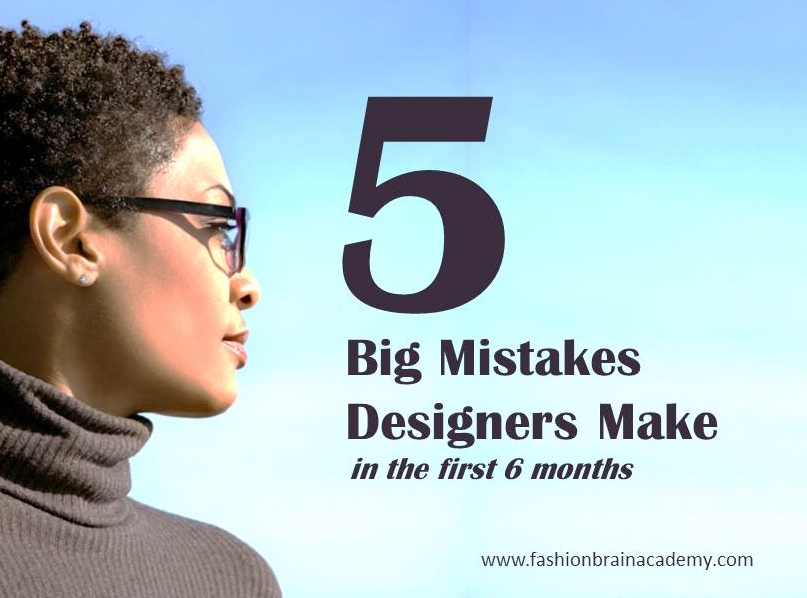 In this episode of the Fashion Brain podcast, I talk about the WRONG way to start a fashion brand. The 5 mistakes I list today are all ones I've made myself with my retail store and womenswear line. I really hope today's podcast saves you some trouble – and money.
In this episode, we'll cover:
Why it's OK to design your business exactly how you want
How most of us focus on being creative first and what we should do instead
EBM – emotional business management and how to avoid it
Money, money, money – cash flow, costing, pricing…
When you should be working and my dumb mistake
The truth about doing everything yourself in the beginning
What "great feedback" on your product really means
Today you get a choice to read or listen. Scroll down for the written version of the podcast. Click here to listen:
 To download this podcast to your device, just click here and go to the top of the page.
Here are the 5 biggest mistakes I see fashion brands making in the first 6 months of business.
1) Not being clear on the goals for the business so you don't have a PLAN. Sometimes, designers just get too excited to "get going" on their business and forget to do their homework, including:
Defining your customer
Thinking about what you really want out of the business – from all different aspects; financial, lifestyle, work/life balance, if you want to be on the front lines of your line or working behind the scene.  For instance, if you are painfully shy, you probably don't want a home party/trunk show business where you interact with the customer on a regular basis.
Getting to know the competition
Making sure you have the right mindset – believing that you can do it.  Do you have the support you need?  The knowledge?  The right mentors?  Eliminating the excuses, the fears
Making sure you are prepared to be a boss: managing people, dealing with business licenses, paying the bills, setting up systems, worrying about cash flow, etc.
2) Forgetting to be a businessperson first and a creative person second
The whole idea of a business is to MAKE MONEY.  And yet, over and over again we see designers treating it like a hobby.  Hobbies are fun, you don't have to do things you don't want to if it's a hobby, you don't have to stretch outside your comfort zone, and you don't have to worry if things don't sell.  Examples of this include:
Becoming too emotional about your line.  If it's not profitable, dump it from the line.  (I know, I know, there are some instances when you want something cool in the line just to have it, regardless of your margin.  It's OK as long as it's the exception, not the rule.)  If you love it that much, just make one for yourself and leave your business out of it.
Not working regular hours.  No, you don't have to work 9 – 5.  But you do have to be consistent and treat it like a job.  People you work with should know when you are coming and going and be able to count on you.
Listening to what people say.  "Everybody loves this one" is nice.  Did they buy it?  What people claim to love and what they spend money on can be 2 different things.  Customers show their love for something when they put their money down.

3) Not choosing a true niche or focus
It really comes down to having a clear, compelling, product concept.  A manageable way to run a business is to start with a very tight, simple product line.  Think hard about your product assortment because you really want to be GREAT at one thing before you add to your line.  Get known for something and be an expert at it. If your ultimate goal is to have a whole collection that ships 5 deliveries, great, you can get there eventually.  But start with ONE GREAT IDEA and be the go-to line for what you do.  Customers understand that simplicity.  Amazon sells everything these days, but they became well-known for selling books.  They were great at it and then they diversified.
4) Money mistakes When it comes to money, the biggest mistakes include:
Not starting with enough money and not knowing how much you will need.
Not understanding how your cash flow will actually flow. If you plan to sell your line wholesale, consider this scenario…  In April, you get 18 orders for your Fall line which you plan to ship in August.  The average order is $1,500 which is $27,000 in wholesale sales.  You need to come up with approximately $13,500 to produce these orders and you need it now so you can order fabrics, get your final patterns made, get them graded, pay your sewing contractors, etc.  You'll pay to produce everything up front and not see a dime returned to you until August.  Even if the stores gave you their credit card back     in April, you should be aware that some cards may be declined and you could produce an order that you cannot ship. Ouch.
Not costing and pricing things correctly – including not valuing your time.  You must be sure you know exactly what each item in your line costs to produce so you can price things correctly.  I know it's probably not your favorite thing to do, but this is what separates the men from the boys.
5) Trying to do everything at once – and doing it all yourself
I see this one all the time (and I definitely WAS this person) and it ties back into your goals for the business.  Based on what you want from (and for) the business, focus on what avenue of sales you want to pursue – focus on one target market – focus on a simple product assortment.  You simply cannot do a decent job when you try to do everything at once and you will be frantic, broke, overwhelmed, and miserable.  Many designers are not patient enough and tend to get bored with slow growth.  It's better to control your expectations and be realistic about what can effectively be accomplished in the first few years.
Now it's your turn… Did you like this episode?  If you did, click the LIKE button and share it with your friends. And tell me this…
Which of these mistakes have you made?
Which of these do you think is the DEADLIEST of them all?
Do you have a story about making one of these mistakes and how you fixed it?
Your comments and feedback are the REASON I DO THIS so leave a comment below and let's get this conversation started, OK?
As always, thanks for reading and listening!
Jane