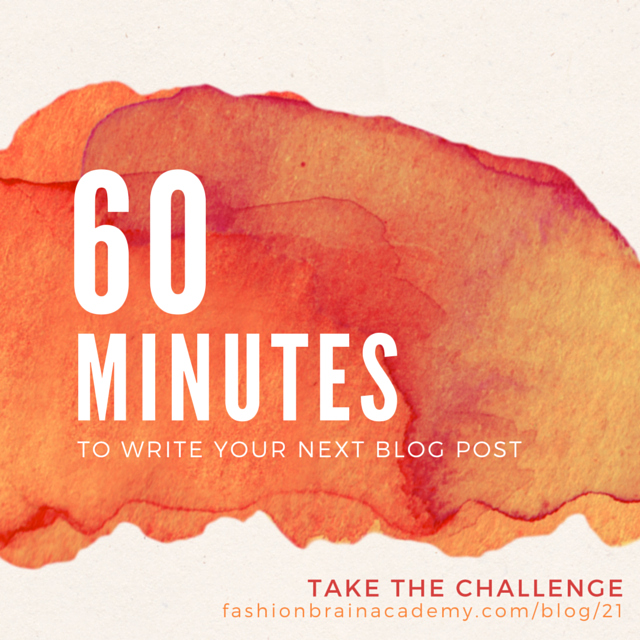 If you're like me, you know your blog is the best way to GET and KEEP customers. (If you're not like me and you don't know that, now you do. It works for EVERY niche and EVERY product.)
The issue is that blogging takes time. It takes effort. And it takes a certain amount of confidence and courage to:
know what to say
understand what people actually want to hear from you
put yourself and your business out there
In this episode of the Fashion Brain podcast, I lay out a simple plan to write your next blog post in 60 minutes. Yes, it can be that simple – if you let it be. And I pad that with an extra 10 minutes to clean it up and proofread. 70 minutes door to door. Sound do-able?
Click here to listen:
You can also click here go to the top of the page, and download the podcast mp3 to any device.
In this episode, we'll cover:
What to do before you event start (don't skip this part!)
How to choose a topic
Jane's example topic and how simple it is
why you're more interesting than you think you are
The #1 blog post from Jane's handbag designer client
A simple 3 part formula for writing fast
So here's your challenge..
Your mission, should you choose to accept it, is to WRITE the post I lay out for you in this episode. It's a simple, behind the scenes look at your studio, workspace, new projects, whatever! The key is to pull back the curtain to let readers get to know you. It's also OK to take this challenge as a video blog, podcast, however you want. The format isn't important here, the DOING IT is what matters.
Keep in mind I don;t want you to blog to jet be a blogger. Everything I do is designed to SELL MORE STUFF. Period. Writing this behind-the-scenes post is the first step.
And I'm challenging you to WRITE IT TODAY. Tomorrow at the latest. Don't just read and listen but actually execute the plan I lay out for you.
Now it's your turn…
Did you like this episode? If so, kindly click the LIKE button and SHARE it with your peeps! Get a friend to take this challenge with you. Push each other. Support each other. Cheer for each other!
And tell me this…do you accept my challenge? Tell me YES or NO in the comments below.
Then – part 2 of the challenge – is to come back after you do the work and post your link to the blog post. Got it? Now !!
As always, thanks for reading and listening!
Jane