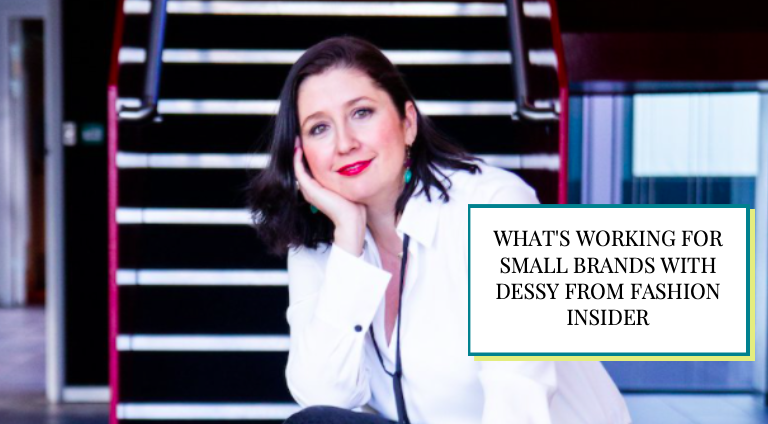 Today's episode features Dessy from Fashion Insider Co.
Dessy interviewed me for her podcast and graciously gave me permission to share it here.
We talk about and compare what's working for small fashion brands here in the U.S. and in the U.K. and Europe.
What you'll learn…
why having a great or gorgeous product doesn't mean you'll get sales
the hard lessons we both learned when we had our own lines
the reality of selling fashion products wholesale to boutiques in today's world
the idea of omnichannel to bring different sources of income
recession-proof your fashion business
And so much more!
Watch or listen below…
You can also listen on iTunes, Stitcher, Spotify, or Soundcloud
Resources mentioned in this episode.
Let me know what you're going to do! Email me or hit me up on social. 
A snapshot of Dessy from Fashion Insider
Born and raised in Bulgaria, a small country in Eastern Europe, Dessy spent much of her childhood sewing, knitting, and embroidering, dreaming of the day when I would be grown up and work in fashion.
But upon graduating with a Fashion and Business degree, she realized that she didn't want to be a designer after all. She didn't want the pressure of coming up with design ideas. What she really enjoyed was creating the products. She loved the process of working alongside the people who touched the product along its journey from the idea stage all the way to market launch.
Over the past 20+ years, she's worked for small and large British luxury brands. From womenswear clothing, soft and hard accessories, to launching her own fine jewelry brand, she's managed the design, product development and production processes and teams, all the while creating winning products that generated millions in revenue.
After fifteen years working for brands, she left being an employee to co-found one of the first, at the time, online manufacturing platforms connecting designers and brands to fashion manufacturers worldwide.
Her gift to be able to break down the design, development & manufacturing process and simplify it into actionable steps to help entrepreneurs identify and overcome their business challenges. Most importantly, to build their knowledge and confidence so that they can launch and grow meaningful, profitable brands.
What's the BIGGEST takeaway from this episode? Let me know in the comments below. I love hearing from you.
And remember…Perfect is good but DONE is better!
xo -Jane