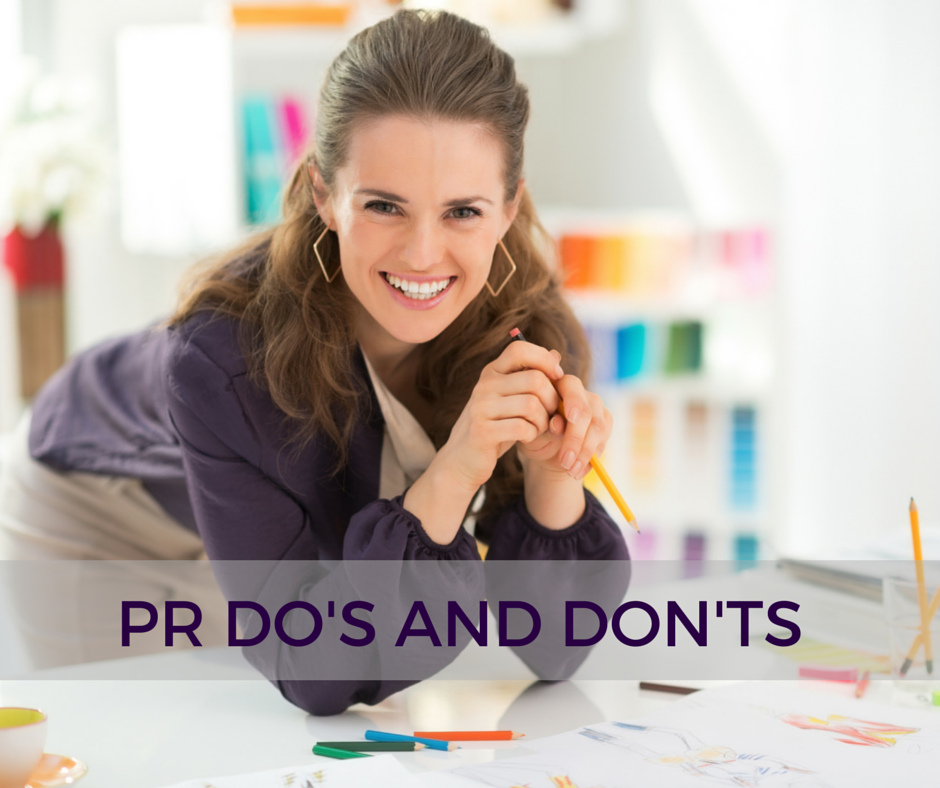 There's something amazing about getting publicity. And there's also something a bit scary about going after press for most of us creative entrepreneurs. I hear it over and over again from business owners – the feeling of… "I want press and I think it would be great for my clothing line / handbag collection / baby product but I'm not sure where to start".
My Dad and my sister were both PR insiders for a long time. They taught me how to craft a story for a journalist and not just pitch the same "Here I am – put me in your article / in your magazine / on your blog". They made sure I never want the route of… My product is awesome! Super! Great! Write about meeeeeeee! You need to know about this! Because! I'm! GREAT!
Here's my list of PR do's and don'ts for artists, fashion designers, makers, and creatives.
Do's
1) Dig a well before you're thirsty
The best time to contact a journalist or blogger is when you DON'T need anything. What's working now is to connect first on Twitter or another social media platform. Start by commenting on their posts, engaging in a non-pushy, non-stalky way. Start building a relationship before you cold email them a pitch.
2) Research the publication
Make the effort to actually READ what the journalist / blogger has written before you approach them. You have to know who their audience really is to decide if it's a fit for your brand. There's nothing more annoying to a writer than to be pitched for something they would never and have never before covered in their publication.
3) Have a story or a hook
How would you describe your company or product to a friend if you were talking on the phone? The best way to get your message across is to the media is to tell it in simple terms, without a lot of "marketing speak". Even better if you can lay out a concise story idea for the media. For instance, instead of saying, "My Spring Collection is ready!" you could pitch, "If you're covering the Spring womenswear trend of wide stripes, consider my wide leg pant in turbo colors – they're not like all the other stripe pants because…".
Don'ts
1) No mass pitch emails
It's incredible to me that people still do this. You must send a personalized email to each publication – nothing like Dear Sir / Madam / Head of best art blog ever publication. Equally frustrating to the media is when people forget to replace the "X" or "First Name Here". These types of lazy emails get deleted immediately. My suggestion is to batch your pitches. Send out 10 a day – or 10 a week – so you can write a thoughtful email to each media outlet.
2) No waiting until everything is perfect
All too often the need for perfectionism gets in the way. I hate to hear entrepreneurs say things like, "This season's work is not quite ready. I'll go after press when I get my next collection finished". I'm not suggesting a full-on publicity campaign your first season, but if you're selling your product and customers are happy, then GO FOR IT.
As with all things in business (and in life), my motto is:
"Perfect is good but DONE is better" –Jane Hamill
3) Don't be afraid to reach out more than once
Journalists are busy and distracted just like the rest of us. No response does not necessarily mean no. It could mean…
I didn't see it yet
I have too many emails
I'm on vacation
I'm the wrong person for this pitch
My assistant just quit and I'm hangin' by a thread here
Follow up about a week after your first contact with a quick and upbeat email. No scolding the journalist for not getting back to you! Just a quick hello with a reminder and links to your product / story. Also, if the journalist says no to a pitch, that doesn't always mean they'll reject any future contact with you. Sometimes a product isn't a good fit their current story but will be great for a different situation.
So tell me this…
Are you looking for press right now? Did you know that NOW is the time to get into Holiday Gift Guides?
I have a great PR opportunity for you…
My friend and colleague, Andreea Ayers from Launch Grow Joy, is hosting a special Webinar just for Fashion Brain peeps about how to get into Holiday Gift guides, how to send an email that actually gets opened, how to be "media ready" and how to find editors to pitch. Andreea is my go-to PR expert and she's the real deal.
In fact, she can teach you how to DOUBLE your Holiday sales by being in the right gift guides. It's happening on Tuesday, June 9th, 2015 at 12 pm EST.
Click here to sign up for the free PRESS Webinar: http://bit.ly/launchgrowjoyJANE
What about you? When it comes to press, what have you tried? Can you give me a specific example of what you did and what the result was? I'd love to hear your story in the comments below.
Have a great day!
Jane