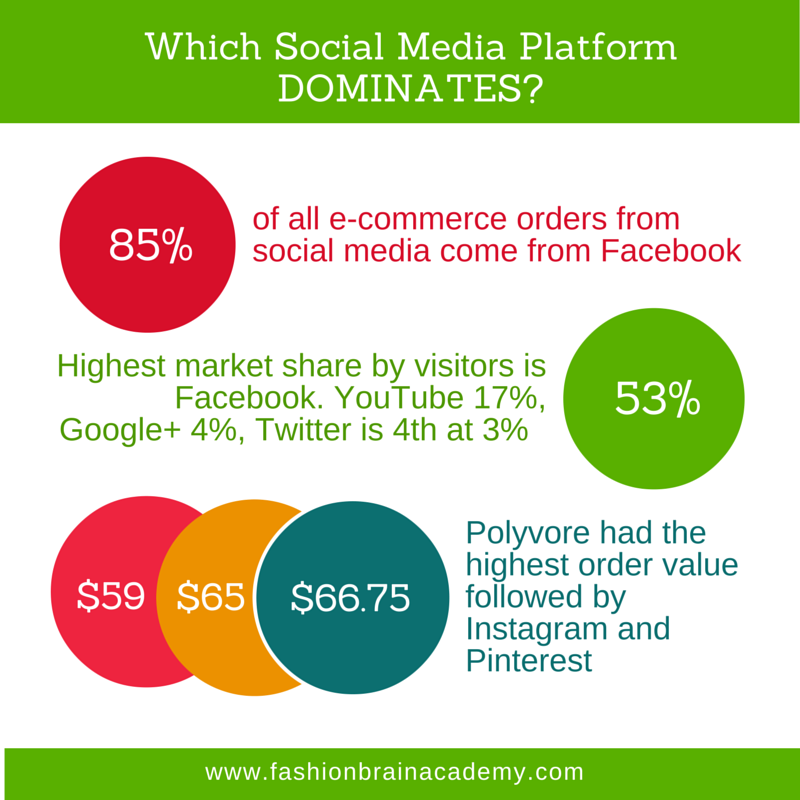 Well this is interesting…
The race for the "best" social media platform continues. And just to be clear, my version of "best" means the one that drives the most sales and puts money in your pocket. It's not just about collecting LIKES and Followers and building relationships. In the end, we add up the sales.
I have to admit I was pretty surprised to see the latest results.
Based on past performance, I assumed a few things.
I assumed Pinterest had the highest order value. No – dead wrong.
I assumed there's no good way to know what the heck Instagram drives due to lack of hot links. Wrong again.
I assumed Facebook drove the most total sales. Yes – gold star for me.
The vast majority of e-commerce sales are driven by Facebook (85%). That number goes as high as 98% in industries where Facebook dominates, like photography, sports & rec, and pet supplies. Pet supplies? Go figure.
There are industries where Facebook doesn't dominate.
Antiques and Collectibles: 74% of orders come from Pinterest
Digital Products: 47% of orders come from YouTube
Electronics and Appliances: 31% of sales come from Reddit
The biggest surprise for me was which platform had the highest average order value. I assumed it was Pinterest as it has been for a few years.
Highest average order value
#1: Polyvore with $66.75
#2: Instagram with $65
#3: Pinterest with $59
#4: Facebook with $55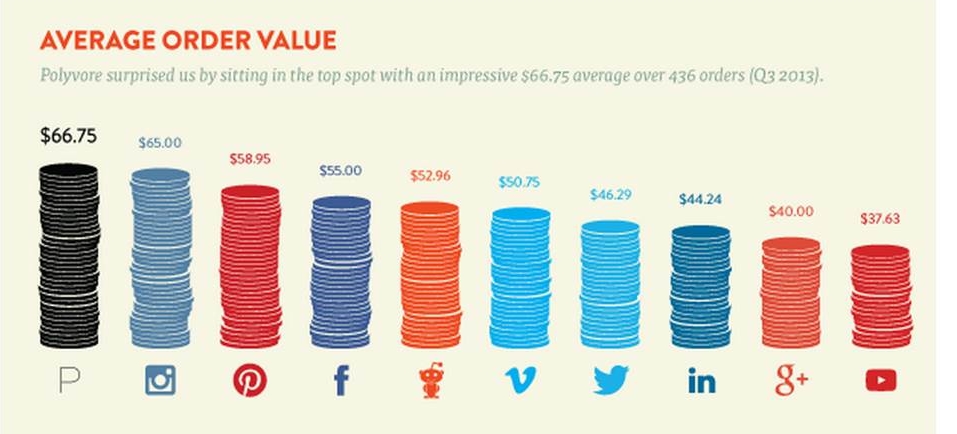 Polyvore has the highest order value!?? Who knew? What I find amazing is that all of these sales are driven by what seems to be an incredibly low conversion rate. Designers ask me all the time what % of visitors to their site should be converting to a sale and they're always surprised to hear the actual numbers.
Check out this infographicabout conversion rates.

In my experience, it's easier to get a sale by driving traffic to my site then selling later, particularly through my email list. But Mark Zuckerberg feels that selling directly from social media is about to get HUGE.
"If I had to guess, (I'd say) social commerce is next to blow up."  -Mark Zuckerberg
Instagram and Pinterest have recently added BUY buttons to their platforms. I keep getting ads about adding a Facebook shopping feature to my Page – something they've tried to do for years without much success. But as users continue to use their mobile devices, I'd have to agree that shopping directly from social media will gain traction.
In many ways, it's just easier. We're all getting more comfortable shopping online and if we can skip the step of clicking away from social to a separate site, then why not? (For more info on social media for e-commerce, check out this article (the infographics are awesome) and this page from Statista.)
So what does this mean for your business? I think it means you cannot ignore social media. And you can't be help-pregnant using it. It's time to be ALL IN.
And if you're one of those people who say things like, "I hate Facebook, I don't care what people had for lunch", then you're ignoring a platform that's driving a huge amount of sales for a huge amount of businesses.
How do you know which platform to focus on? That depends on a number of things but to keep it simple, just ask yourself this ONE question:
Where does my "perfect customer" spend their time online?
Go there. Easy as that.
If your people are on Twitter – tweet it up. If they love Pinterest, get your booty over there. If you're nor sure where they hang out online, ask them! Send out a quick survey and see what happens.
Now it's YOUR turn. What's the platform you spend the MOST time on for your business? Bonus points for WHY you chose it and if it's working for you. Leave me a comment below, will ya?
This is a FASCINATING topic and I'd love to hear your opinion on things – stop lurking and join the conversation!
As always, thanks for reading!
Jane