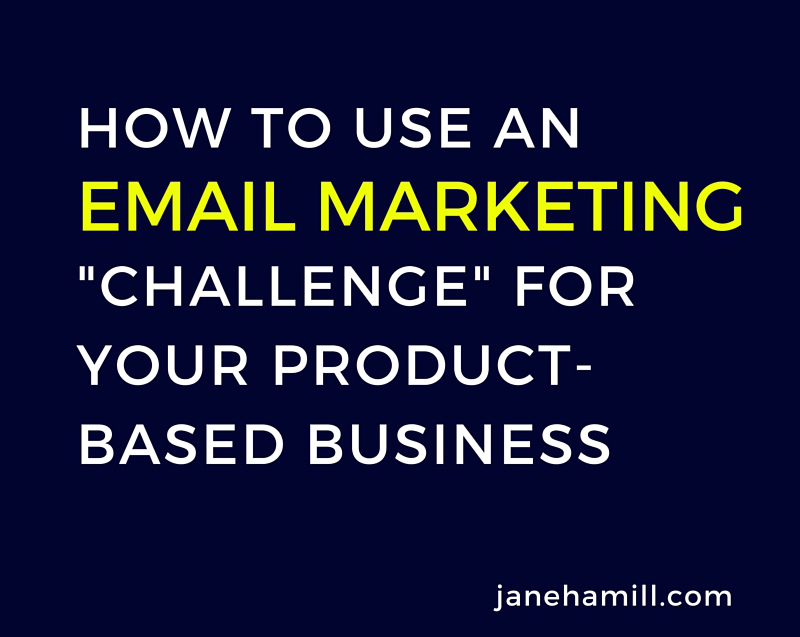 Part 2 of 2: Part one explains how I used Facebook ads and email marketing to get sales. If you missed part one, click here and read it now – because this post won;t make much sense without it! This post, part 2, gives you 2 specific case studies for how to use an email "Challenge" to build your email list for your product-based business. 
Today's post lays out 2 specific email list building case studies and I show you EXACTLY what I'd suggest to a
VIP client
– the specifics of what to say in the subject line, the content of the emails, the offer to buy — everything! 
Two Case Study Examples of Email Challenges for Product-Based Businesses
Challenge Example #1:  If You Sell Women's Apparel…
Take the Challenge! How to Be the Flyest Girl at the Party
Spend the next 5 days with me and I'll show you how to boost your style IQ into the Mensa category! Here's how it will go…
Day 1 Challenge: Yes you CAN wear that color! How to get out of a color rut.
Day 2: The Layering Challenge – we'll show you how to layer our pieces so it doesn't matter if the AC is cranking or the heat is blasting. You'll be like a Boy Scout – PREPARED. (Then post and link to your best-selling cardigan as an option)
Day 3: Everything Old is New Again. Dive into your closet and pick out a piece you haven't worn

in 6 months

. Post it on my Facebook Page (provide them a link) and I'll personally tell you what to wear it with. (Then you suggest items from your online store to pair with the piece from their closet. To soften, the sales pitch, say you could wear it with a tops LIKE THIS… post the pic of yours but make it a soft pitch)
Day 4: The Leggings Challenge – how to wear leggings at any age – and the specific tops that go BEST for your age group (with links to the tops that you sell
I think you get the idea… Your goal with this Style Challenge is to get them OUT of their clothing comfort zone, have some fun, and offer them products that solve the Challenge of the day.
Challenge Example 2: Let's Say You Sell Baby Products…
Take the Happy Mom Challenge! Spend the next 5 days with me to learn how to handle new-Mom stress and be the upbeat, smiling mama you want to be. 
Day 1 Challenge: Stuff Happens. It's scary to be a new Mom and have this gorgeous, needy person depend on you for everything. But here's the thing, babies are pretty much made of cartilage and you can't really break them.(Insert here story of your fears of when you had a newborn and facts / stories to make the readers feel better. The challenge could be to write down 3 parenting things they worry about and what they can do to ease the fear…)
Day 2: Time For Yourself. No, I'm not joking. If the Mama is happy, the whole family is happy so you MUST take care of yourself. Here are 3 SIMPLE ways you can grab 10 minutes of YOU time…. (give them the options and have them pick ONE and do it today then report back to you on Facebook or your blog what they did and how they feel better).
Day 3: Ask For Help. Happy Moms are NOT afraid to ask their family or friends to help. Call a friend and agree to swap an afternoon with her. You'll take her kid, she'll take yours. NO GUILT, ladies!! Your baby will LOVE being around another child and you know they'll be well-cared for. (Then challenge them to make the call TODAY to a friend and book it on the calendar. Next give them gift ideas from your online store for a baby gift for the friend.)
Day 4: Get Out Of the House NOW. A 10 minute walk has been proven to clear the mind, (add other proof and link to article about the benefits of a 10 minute walk). And when you go, SHOW OFF that beautiful bundle by dressing them up in(pic and link of your product).
See how it works?? Provide them value and support first, then ASK for the sale. You can do the Challenge with NO PITCH and wait 'til the end or sprinkle offers for your products into the Challenge content day by day – your choice.
The key it to just TRY. Get started, keep it simple, and see what happens! It might be awesome. 🙂
Please leave a comment below and tell me what you think. Whether you like this post or hate it, it's all good. I just like hearing from you!
– Jane