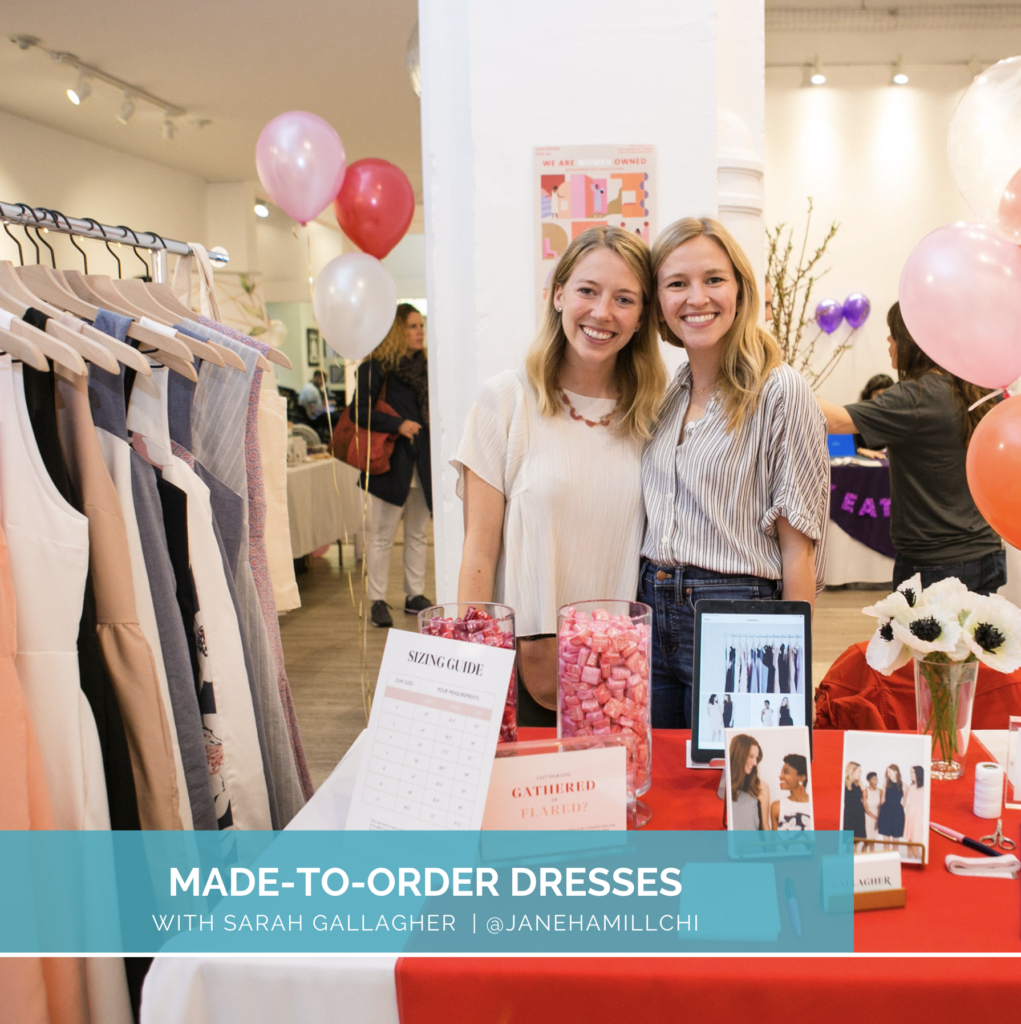 "Gallagher was born out of a love for dresses and a hope of a kinder garment industry. "
I have another great startup story for you on this week's podcast with my special guest, Sarah Gallagher of Gallagher.
Sarah and her sister are co-founders of  Gallagher,  a made-to-wear, sustainable women's wear line. She's known from a very young age that she wanted to design and after taking some fashion classes and then going all in and doing an intense one-year program at FIT, she knew she was going to start and design her own dresses.
In ths episode, fashion designer Sarah Gallagher and I sit down to discuss: 
What it's really like to go into business with your sister as your partner.
The truth about being made-to-order and sewing everything herself for a long time.\
Hiring her first employee (!) and meeting payroll each month ()
If Sarah had an extra 5K to spend on marketing, what would she do with it?
Sarah's thoughts about her one-year program at F.I.T. Was it worth is?
How many hours per week Sarah works and how she manages things with her family to find some sense of balance.
Have a listen…
You can also listen on iTunes, Stitcher Radio, Spotify, or on Soundcloud
Want to Work Together?
If you want to launch a profitable clothing line, we have a program for new designers, called Launch a Line. It's a step-by-step course that gives you the blueprint to a successful launch so you don't make the same mistakes I did when you start. You get unlimited access to the course for 3 full years plus a great community of like-minded entrepreneurs.
If you're currently selling online and want more consistent traffic and sales, you can join The Content Club. You'll get expert training, LIVE marketing Hotseat reviews, Study Hall, a private Facebook community, and accountability to grow your online business.
Mentioned in this episode:
Quotes from today's episode: 
"My sister is a graphic designer by trade and a web developer and a fantastic photographer in Chicago. She has a range of skills that I did not have and could not pay for in starting my business." 

"I found out I was pregnant on the day my brick & mortar retail shop opened. The day of the grand opening is the day I took a pregnancy test and wow, that was a big day. So it's just been a whirlwind of a year." 

"I totally feel for all of the parents out there. My son Jack was born three weeks early. He was born at the end of February and I did not have a seamstress or an employee lined up on January 1st." 

"It's still a stressful thing to have someone on payroll. It's a leap of faith for sure. I mean, we are still month to month, like, are we going to make payroll? Are we good? What were the hours this month?" 
Let me know if you want to tell me your story and be on the podcast. 
Remember…Perfect is good, but DONE is better! I'm rooting for you,
Jane
More about Sarah Gallagher and Gallagher…
As designers and best friends with a vision for a womenswear brand founded on celebrating occasions big and small, Sarah and Hannah have combined their unique talents to help women do just that. Our brand is for the woman who finds joy in dressing for the occasion. She loves celebrating milestones, embarking on new adventures, and inviting others into her home.
GALLAGHER'S MISSION
Our mission is to empower women to celebrate their lives with confidence while considering their consumption. Gallagher is committed to sustainably sourcing and ethically producing every piece to last in your closet, which is why we partner with vendors and collaborate with artisans who share our values. We've gone to painstaking lengths to make sure fit and fabric are on point for every style, so that your Gallagher dress will become a favorite you reach for again and again.