"Get Your Blog Done Already" Workshop in San Francisco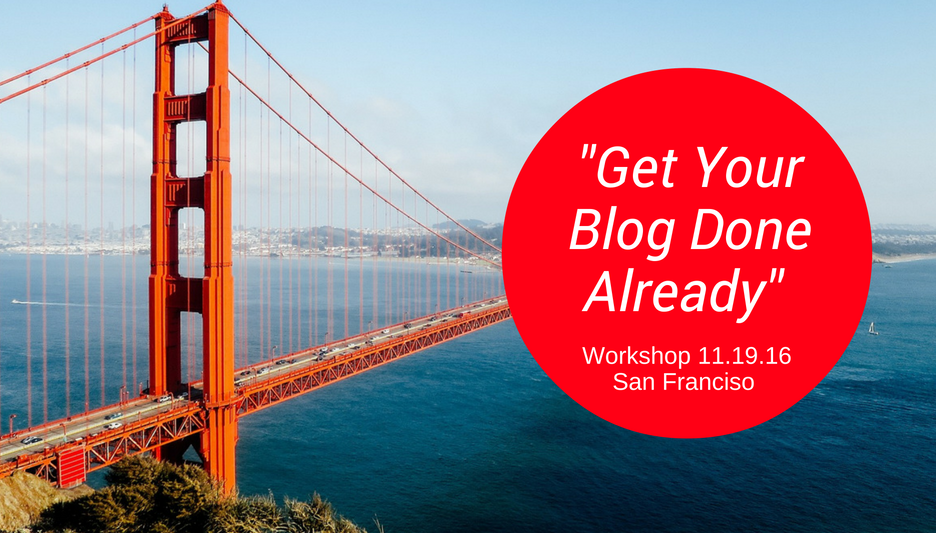 Sometimes you get an opportunity you just can't pass up – even if it's last-minute. That's happening to me right now and hopefully, for you too. 
I'm putting together a blogging IMPLEMENTATION workshop this Saturday, November 19th, in San Francisco.
No more night before, "Oh crap, I have to post something tomorrow, what the heck do I do?"
Here's the deal:
Hands-on, get your blog DONE already
Brainstorm and bullet-point your next 15 posts (videos, articles, podcasts, picture diaries – whatever format you like)
Limited to 15 people only
We'll do it together, focused and productive, for 2 hours
You'll walk out with the "hard" part of producing content for your blog completely finished  
You'll get my help + designer and guru marketer Erika Neumayer (if you don't know her yet, you're in for a treat!)
This event is going on during the DG Expo Fabric Show in San Francisco, from 3:00 – 5:00 pm on November 19th. It's a killer deal too – $45.
"Get Your Blog Done Already" Implementation Workshop
Saturday, November 19th, 3 pm – 5 pm
San Francisco Hilton Hotel Financial District / Chinatown, 750 Kearny Street, 2nd floor
Only 15

13

Spots Available

Your Investment: $45

Jane Hamill's work has been featured in…