Holiday Season Planning in 30 Minutes or Less (phase one)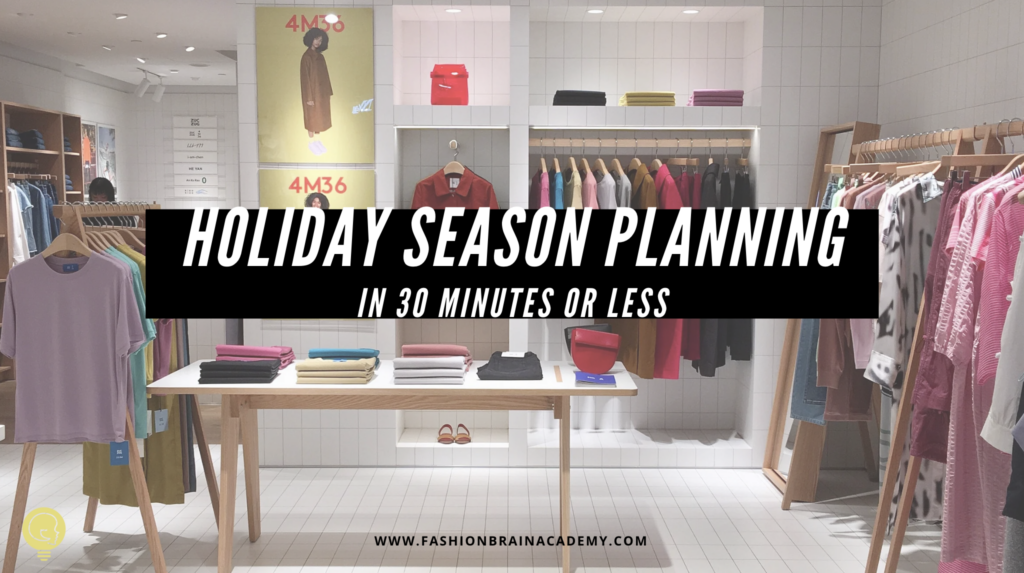 Download the Notes for this episode.
What if you spent 30 minutes planning your Holiday sales and emails? 
Right now. Today. As in…grab a pencil and let's do it. Without any fancy planning tools or special brain power.
This episode breaks down 4 very simple steps to crushing your BFCM and Holiday season sales. 

I suggest you download the notes for this episode before you listen so you can follow along and use for your phase 0ne Holiday planning..
You can also listen on iTunes, Spotify, or Soundcloud
Show Notes: 
There are 4 steps to Holiday Season sales & email planning for fashion, jewelry, and accessories designers (phase one).

Step 1: Make your lists
Make it EASY for yourself and list out…

Personal events

Biz events

World events

Product availability

Psychological triggers to buy

One-off emails vs.series of X emails over X days

Email segmentation

(user behavior)
Step 2: Choose your Strategy
How do you want to approach the Holiday season? Just because you sell online does NOT mean you have to kill yourself trying to optimize everything. Choose how you want to roll…
Simple:
BFCM promotion or early promo

2-day promotion early December

Gift ideas for…

Emails about events (ideally segmented to locals)
Medium:
BFCM promotion or early promo

2-day promotion early December

Gift ideas for X, Y, and Z…

Emails about events (ideally segmented by location or previous attendance)

Simple segmentation based on behavior (they clicked – shows interest in-

 this

, therefore send them more of

THIS

)
All-In:
All-In includes everything above plus…
BFCM – daily promos & emails

12 days of Dox-mas

Email segmentation

Value-Add

Bundles

Multiple psychological triggers
Example of a Medium/Light Strategy

One of my clients wanted to skip doing something for actual Black Friday weekend but they still wanted to give a nod towards Small Business Saturday. The solution was to do a Customer Appreciation sale in early November. It went so well that theey do it every year now and their core customers love it and look forward to it every year. 
Step 3: Create Your Plan
It's time for your "crappy first draft" of a plan. This does NOT need to be fancy! Treat it like a draft, not a final project. OK?
What can you use from last year?

What email templates do you already have?

What can you schedule ahead of time? (hint – almost everything)
Step 4: Set up Accountability for Implementation
This is the hardest part for busy entrepreneurs. We set up a beautiful plan then wake up Monday morning and think,
Naaahhhhhhh, I should do THIS instead of what this sheet says… and we eff everything up.

Create your plan, honor your plan.

A time to think, a time to act. These are NOT the same time.

So get started with phase one of your Holiday Season planning right now. Get your quick first draft ready NOW and know that you can h=get more granular for phase two of planning. And will you do me a favor?
.Let me know how it goes! Hit me at brain@fashionbrainacademy.com. I love hearing from you!