How Do I Start a Clothing Line with $5,000? Where Should I Spend the Money?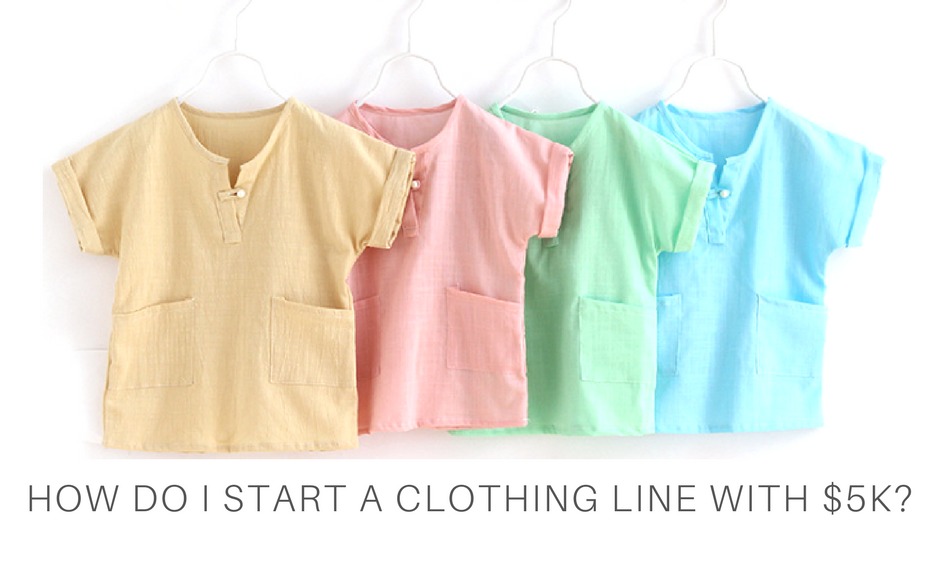 I found this great question in my Inbox the other day, forwarded to me from Cathy Wagner, my retail consultant buddy. who got it from a client. It's a big question and my usual response would be…
sorry, I get so many emails with "quick" questions to answer them all, please book a session, buy a course, wish I could help but no time to answer random Q's…
But I read the question again and thought it would be great to answer for everyone who wants to start a fashion line – clothing collection, accessories line – on a tight budget.
Here's the question…
Q: "I have 5K to start a childrenswear line and…"
…am hoping to double in profit. Ideally I'd like to get started as soon as possible, a day doesn't go by that I'm not thinking about it! Initially I was working for a bank, thinking that a 9 to 5 job was requirement for success. It wasn't until I met my husband 3 years ago that I realized success is where passion meets purpose.  I'm a new stay-at-home mom, so what better time to take a chance than now when I have the time to do so!  
The clothes line idea I am pursuing is more than just clothes for kids. It's a message. An important message that I whole-heartedly believe needs to be shared from parent to parent, and the focus and common ground is the love of our kids. My muse-well you guessed it, my 20-month-old son. My brother-in-law is a web developer so he will be in charge of that aspect.  Again, any advice in any step of my process is greatly appreciated!"  
Stay well,
Gaby
A: Hi Gaby. Here are the steps to starting a clothing line on a small budget.
Before we start, Gaby, I'll tell you that this is how I would start if I had your budget. There are lots of different ways to bake this cake, but here's what I would do step-by-step.
Also, one quick PRO TIP on where to you'll needs to spend $$. If you have a small startup budget, DO SPEND money on pattern making and high quality photos. You can skimp on other things like paying yourself and studio space (if possible).
You can do a relatively cheap photo shoot – use your own kids and friends – natural Instagram style, do it outside, hire a WEDDING photog. They know how to capture people and use lighting and are available on a Tuesday.
** First – design some styles. Each in 2-color ways – 10 hangers – so that could be 5 bodies for a total of 10 pieces to show a customer.
** Next – get items SIMILAR to what you want. Buy them from stores, raid your kids' closets, ask friends etc… Use these examples as references to show a pattern maker what you want and how you can improve the styles for your collection. For instance, if you like the collar of that piece and you love the trim on another piece. You gather up whatever compilation of items you can to show the pattern maker EXACTLY what you want in your unique piece.
** Fabric – ideally buy your fabric wholesale and keep it simple!! Don't source a ton of different fabrics. You can get creative in other ways like with trims, finishes, etc., so be sure that your base cloth is used in multiple places. When you choose your fabric, try to buy it from small quantity wholesalers. You can download my list of wholesale fabric sources (with small quantities).
** Pattern maker – going to network and industry events or asking around is a good place to start. Makers Row is another great resource.
** Sample maker – here's the sneaky way I produced my blanket and baby blanket line. Also, I have a course on How To Work with a Sewing Contractor that you may be interested in.
** While you're doing all this product development, don't forget you'll want customers from the first day you launch. To make this happen, you'll want to start building an audience for your brand even before you have a product ready to sell.  
Yes, it's totally possible and Gaby, please don't miss this step! What I mean is gathering a group of like-minded people you want to sell to. You can do this by starting a blog, social media, a Facebook group, or emailing your friends and family with updates on what you're working on.
** Costing and pricing – you're playing chicken and egg here since you're guessing quantities, but you gotta start somewhere.
** A few rounds of samples – pattern, fitting, pattern corrections, cut a new sample… Get to a final "perfect" sample and then…
** Tag each item with final retail price. Use decent hangers!!
** Plan a B to C (direct to consumer) selling event. With your budget, I suggest a home party (or 2 or 3 or 10) at friends' w/a charity component. You could also consider adding a Facebook Group or FB LIVE party event, or YouTube.
** Sell and take orders – customers should pay up-front and you ship in 6 – 8 weeks or sooner if possible.
** Produce and ship.
** Without giving you the hard sell, my suggestion for your next step is my full startup course. It's been called a lifesaver because sometimes you don't know what you don't know and if that's true, everything is harder. The New Designer Program will save you from a ton of mistakes, frustration, and wasted money.
https://fashionbrainacademy.com/training-courses/new-designer-program/
Here's a quick look at how I would use your $5,000 startup budget:
Fabric: $1,000
Pattern Making: $1,200
Samples and Fittings: $1,200
Trims and Packaging: $400
Miscellaneous: $250
References for pattern maker: $450
Selling Event expenses: $500
Total startup budget used for Gaby's new children's clothing line: $5,000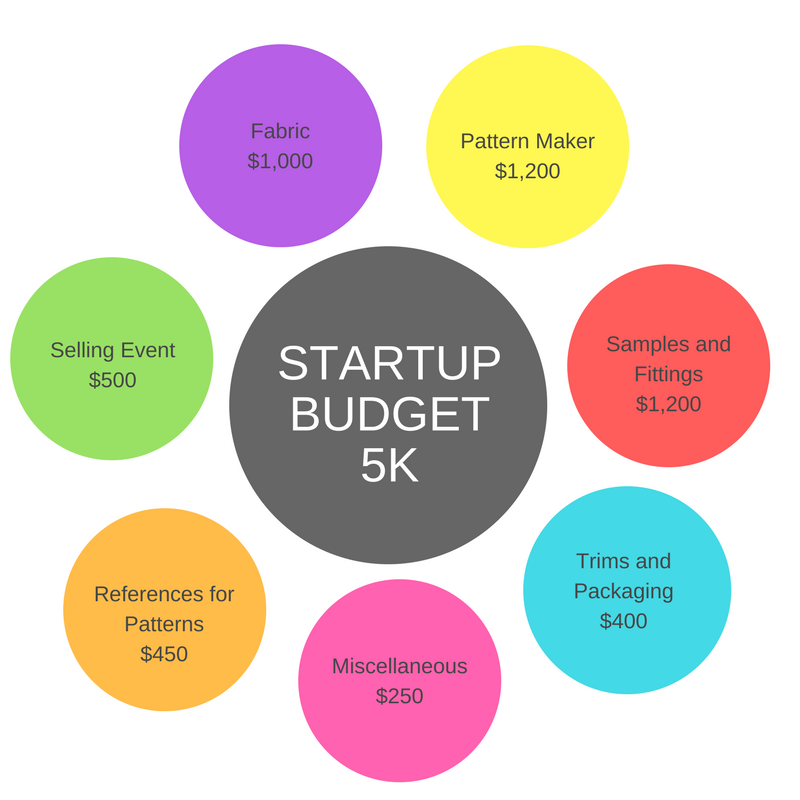 So tell me… was this blog post helpful to you?
Please let me know what you think in the comments below and thanks! Based on your feedback, I'll know what to write about next!
Jane