"I have a great idea for a fashion product – how do I start?"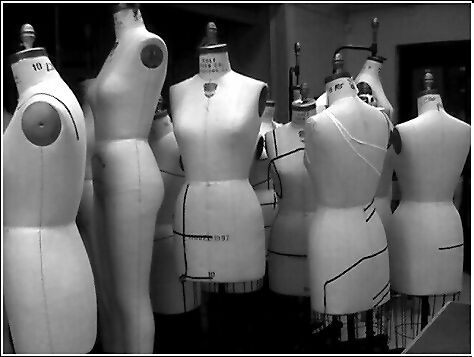 I get asked this question pretty much every week.  While there are lots of different ways entrepreneurs have used to go from idea to market, I'm going to tell you what I think works best.
The first 3 steps to get your fashion product to market:
1) Buy a good book
Seems obvious, right? And yet I get requests asking for Private Coaching when the caller has yet to even read a little bit about the process of starting a clothing line.
There are plenty of good books out there and if you're looking for a recommendation, I would start with these two. 
2) Go shopping
You need to make sure there's a true market for what you want to design. I see way too many entrepreneurs design a product because it fills a very specific need they have in their own lives.
Of course, most of us go into business because we have an itch we need to scratch, and that's OK. The problem becomes when you design something for an itch that very few people have – like a baby product for an issue that only lasts a few months of a child's life. And even then, maybe it's only for some kids. You need to know if what you plan to make is something people will really buy.
My advice is to go shopping. Visit brick and mortar stores where you think your product could be sold once you have one. I suggest you do this even if you never plan to sell to retailers and only want to sell online.
When you go to an actual physical location, you can talk to the salespeople. Ask to speak to the owner or buyer if it's a smaller store. Then ask them this question…
"What is it you would love to buy for your store but you cannot find it in the marketplace?"
See what they say. Don't edit them or interrupt their answers. Just listen and keep good notes.
If you visit a few stores and start to hear the same things over and over, you'll know there's a need in the market.
You can even pitch the store owner/buyer on your and see if they'll give you honest feedback.
You can also do research online, of course. Do a Google search for the "problem" your product solves. See if other people are searching for the same thing. 
Compare these 2 Google searches.
"clothing for curvy women" turns up 83,200,000 results.
"clothing for pear shaped women" gets just 6,210,000 results.
If I were going into business, I would pick option #1 asa my niche and then perhaps narrow it down to an even tighter niche within the curvy clothing area.
3) Make a sample (prototype)
If you feel there's a market out there for your product, it's time to get a sample made. There are many, many different ways to do this but I'll stick with the cheapest & easiest way to get a sample made for an apparel product for now. 
Assume you only want a working prototype so you can show other people your idea in the flesh. First, you need a good sketch of what you want to make – starting with ONE item only. If you cannot sketch at all, you can call a local college and find a fashion design student who can do it for you.
After you have a good rendering, you can take this to get a pattern and a sample made. You can start with a local dressmaker or expert tailor. Show them your sketch (again, start with ONE style only) and ask if they can help you get a sample made and what the cost will be.
Huge disclaimer here: this advice is ONLY for the first sample, OK? After you get ONE made it will be time to move on to a more professional way of doing things.
You will need an industry pattern maker and sample maker who knows how to make prototypes that can be used for production, not just one-off samples. They are very different and if you spend too much time on the "local seamstress" method I can virtually guarantee that your patterns and samples will have to be re-done.
4) Educate yourself 
Reading a book and doing a Google search for "how to start a clothing line" will get you started, but it barely scratches the surface of what it really takes to launch a successful apparel business (or any sewn product). 
The truth is, much of the apparel / fashion industry is still an insider business. You can't Google this stuff up! And in truth, other fashion designers rarely share their fabric resources, pattern makers, or manufacturing contacts.
If you need help finding out if your idea makes financial sense – will you have the margins to make money, what are common pitfalls in your niche, how much will this business cost you to start – then you should consider consulting a professional.
Ways to get help:
Free: There are terrific free mentoring services all over the country through SCORE (http://www.score.org/). These are NOT necessarily specific to the fashion industry but are great for general business startup stuff.
Affordable & Awesome: If you want to learn the entire process of starting a clothing line, step-by-step, we offer an intensive online (do at your own pace) course for new designers. It's an entire A-Z blueprint on the business of fashion startups, called the "Launch a Line" program for new designers.
Deluxe: If you want direct access to someone who's done it before successfully, you can consider private coaching with Jane, the founder of Fashion Brain. She owned a boutique in Chicago for over 14 years and sold her line to Bloomingdale's, Saks, Marshall Field's (now Macy's) and more. Her work has been seen on CNN, Fox, NPR, Entrepreneur Magazine, Chicago Tribune, WWD, and more. Your investment starts at $397 for a 50 minute session via phone or Zoom. Click here for info on private coaching for fashion designers.
What do YOU think?
Now I would love to hear from you in the comments below!
And if you're already in business, what worked for YOU in the early stages?
Can you tell us the ONE thing you think people should look out for when launching a product?
Thanks in advance,
Jane