I'm Sewing Everything Myself. Can I Make Real Money?
#AskJane LIVE Fashion Business Coaching Episode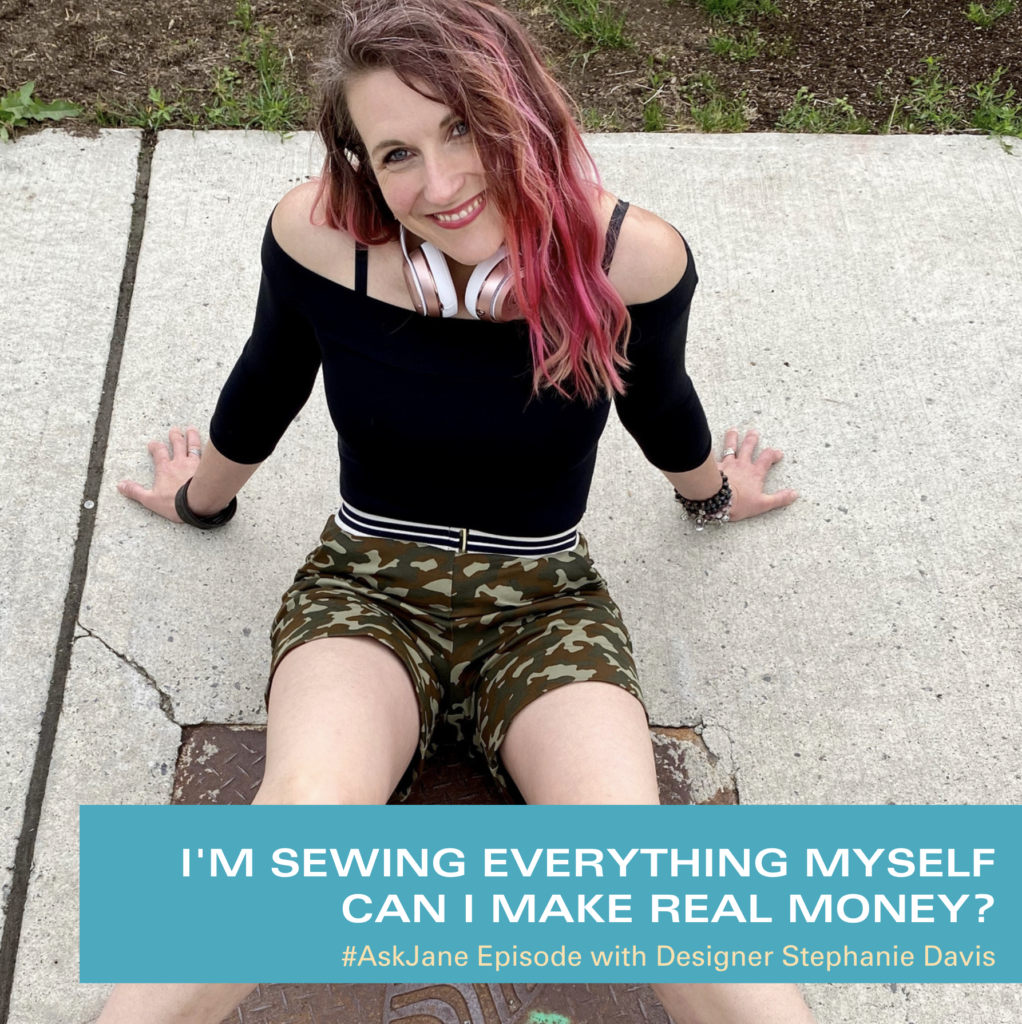 Today's episode is a LIVE coaching session with a badass Canadian fashion designer, Stephanie of Stephanie Davis Designs. She sent me a really great question and I thought it would help everyone to cover it on the show.
Stephanie was feeling a bit worried after listening to the "6 Things New Fashion Designers Need to Know Before They Start a Business" and hearing "if you're sewing, you're not selling", so she sent us a DM on Instagram.
So I invited her to do one-on-one session — an #AskJane LIVE coaching episode. Today I talk to Stephanie about…
What her DREAM business would look like
Determining Stephanie's highest margin items
Determining her best sellers in terms of dollar value (not units)
Outsourcing more so she can spend more time on sales – plus keep her body healthy
What 3 tweaks she's going to make this month to start making more money
Have a listen…
You can also listen on iTunes, Stitcher Radio, Spotify, or on Soundcloud
Want to Work Together?
If you want to launch a profitable clothing line, we have a program for new designers, called Launch a Line. It's a step-by-step course that gives you the blueprint to a successful launch so you don't make the same mistakes I did when you start. You get unlimited access to the course for 3 full years plus a great community of like-minded entrepreneurs.
If you're currently selling online and want more consistent traffic and sales, you can join The Content Club. You'll get expert training, LIVE marketing Hotseat reviews, Study Hall, a private Facebook community, and accountability to grow your online business.
Quotes from the podcast:
"I was listening to an episode of your podcast as I was ironing and doing quality control on some things that I had sent out to a seamstress because I do really much of the sewing myself. And I'm really, I'm trying to give some of that away, but it's really hard for me because I'm a really good seamstress. You're saying that for most people, it's probably not a great plan to be doing the production yourself in terms of making money.
"And so I'm, I'm ironing and I'm looking at things and I'm nitpicking the little aspects that are not quite, uh, what I would do in my extreme perfectionism. I'm listening to you saying…not making money. I had to immediately leave you a voicemail. Like what the hell was it? How dare you."
I would love to a see myself making, like actual money. I don't need to make piles and piles of money, but a real salary, because the problem is with the way that things are for me at this point is, you know, there are some weeks where you get piles of orders and you're like, right on, I'm doing great. This is amazing. But then the next week, you know, crickets, you got nothing coming in. And then another week later, like you've got some stuff happening. And so it's sort of, it's, it's sort of, there's an ebb and flow and it's not constant.
Mentioned in the podcast:
Let me know if you want to tell me your story and be on the podcast! 
Remember…Perfect is good, but DONE is better!
Jane
More about Stephanie's brand:
Choose your own Fashion Adventure with Stephanie Davis Designs
If you're anything like me, finding clothing right off the rack just doesn't cut it. I'm the girl that wants those pants in that fabric. I want this top with short sleeves, and that top with long sleeves. And for the love of god, I want a skirt that fits my butt without being all baggy at the waist! Sound familiar? Well, it can be done. My Signature Collection is 100% made to order, that means YOU pick the fabric and the customizations to make it your very own. No more awkward sleeve lengths, no more gaping waistbands, no more wishing those purple pants were black, or those black pants were purple. Best of all, no extra charges for the common adjustments that transform a regular garment into your favourite go-to!
Stephanie Davis Designs | Fun Fashion that FITS