"What should I do FIRST to start my clothing line? I'm stuck and need direction."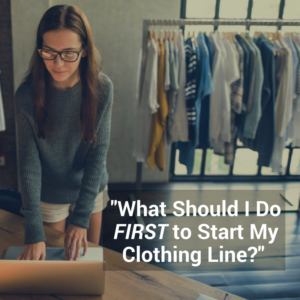 #AskJanesBrain
Today's video shows you exactly what went on during a private client session with a startup clothing designer who needed direction to get going.
"I'm stuck and I need some direction for my startup."
That was the title of the email the designer sent when she booked a session.
Here was her initial email: 
"Hi Jane! A little background before our meeting. I sew but not well enough to make all the samples. One of my first questions for you will be about that. How will I get my samples made? Do I need to find a factory right away? 
I've already signed up for your startup course (thank you!) and plan to dive in soon. In the meantime, I'm frozen by everything there is to do and overwhelmed with knowing what to just start with. I'm probably overthinking this, but I'm booking this coaching session so I can get some focus and direction before I start spending any real money on my business.
I don't want to mess this up too much LOL. Looking forward to our meeting." – Tiffany
I get a version of this same question from a a lot of students and clients. I've been in this same situation myself. So I thought I'd just put it all out there – exactly what went down in a private 1:1 coaching session with a startup designer. 
In this video, I walk you through the first 3 things Tiffany can start doing NOW to launch a successful fashion business.
Mentioned in the video:
I'd love to know what you think of the advice I gave Tiffany. Do you agree? Disagree? What were YOUR first 3 steps?? Let me know in the comments below. I LOVE hearing from you!
Jane
P.S. You can find the startup course that Tiffany joined right here.