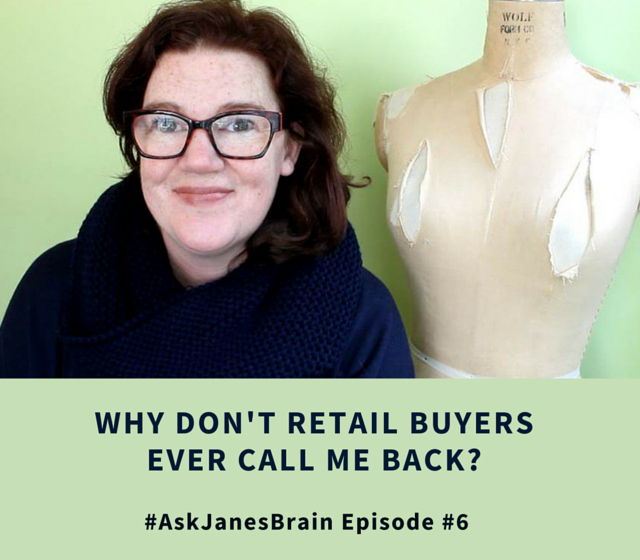 Today's question is about selling your fashion product wholesale and the age-old problem NOT getting a response from a buyer – even after they tell you to send your line sheets!
"Hi Jane,
How come when I contact retail shops about my clothing line, they say send over your terms and line sheet and every time I do, I don't hear anything back? It's happened literally 20 times in the past few months." – Shelly Stout, New Orleans
Well, Shelly, it's all about the follow-up. Watch the video now…
So Shelly, does that help? And now I bet you're wondering what to say when you call a retailer, right?
I had the same issue when I started. Shortly after I launched my line, I landed my first major department store account. That made it easy to get a sales rep for my womenswear line. But I STILL didn't know how to approach stores since my first wholesale account found ME.
Calling buyers was terrifying for me at the time and I froze up completely – with no idea what to say.
So I did the obvious thing…
I asked my rep for a "script" to use when I got on the phone. And you know what hapened?  
She laughed at me. And I felt really stupid.
She told me, "you just get on the phone and be nice!"
What the whaaaaa??? I had no idea what that meant and had to figure it out on my own.
And that's why I'm offering a LIVE free Webinar on October 15, "The Script to Use With a Retail Buyer". I'll teach you what to say, what NOT to say, and how to speak "retailer" so you get an appointment. There will be no recorded replay so do what you can to be there LIVE.
Click here to register for the "Retail Scripts" Webinar (it's free!): 
"See" you there!
P.S. What's the ONE main things you want to learn during the Webinar? Just leave it in the comments below and I'll answer it during the Webinar, OK? And tell me this… Are you coming??