Closing the Sale Online by Using a Countdown Timer (Steal This #8)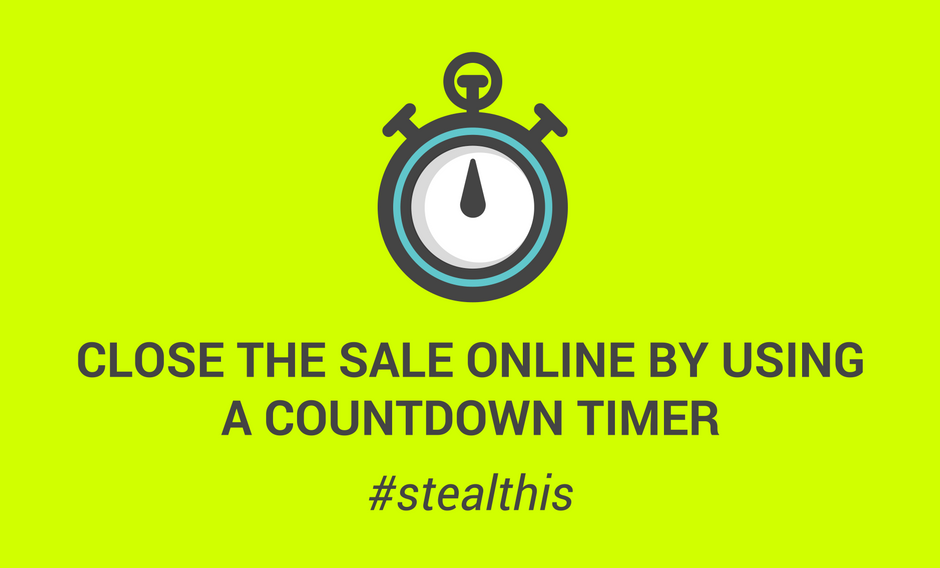 The email popped up on my phone and  I took a quick peek at it at the stop sign. I know. But that's what I did.
I was interested in the conference but the idea of putting on a cute outfit, hauling-A downtown, finding a place to park, and being nice to people — it was just a little much. 
I opened the email anyway and saw the rockin' list of panelists, and thought, I'll think about it. Except –if I bought my ticket today  there  was money off – lots of money off. Dammit, gotta take action or lose cash.
Tough decision.
I pulled the car over, interrupted my day, whipped out the credit card, and signed up. Because they gave me a reason to take action and to do it STAT – faster than McDreamy could call for a crash cart.
From I'm not sure to please take my credit card!
Today's STEAL THIS video is about closing the sale on your e-commerce site. There are lots of different emotional (and marketing) "triggers" that will get people from I'm not sure to take my credit card please!!
FOMO (fear of missing out) is what we're really talking about – and that's what worked on me. Missing out on savings in my case, but it could be missing out on something "everyone else" is doing, or missing out on being the FIRST to have something (iPhone line, anyone?).
Here's the thing…
'Cuz there has to be a consequence
If you make someone an offer to buy, and there's a CLEAR deadline and thus a true consequence for not taking action and buying right now, you will sell more! Works every time.
Watch the video, see the example about using a countdown timer, and then ask yourself…
"How can I use this for MY business? How creative can I get to try something different with my marketing?"
And before you say, but Jane, I don't know how to install a countdown timer… The video shows you how to figure it out.
Now tell me this...How can you steal this idea and use it in your own unique way?
Let me know in the comments below and I challenge you to try SOMETHING new in the way you sell. However big or small. Are you ready to give your prospects a reason to buy now?
As always, thanks for watching (and reading).
Jane
P.S. If you're doing any Holiday selling events, markets, or craft fairs, I have a course for that – and it can help you DOUBLE your sales. No BS. Click here to get it and use take $30 OFF with coupon code: JHBLOG.