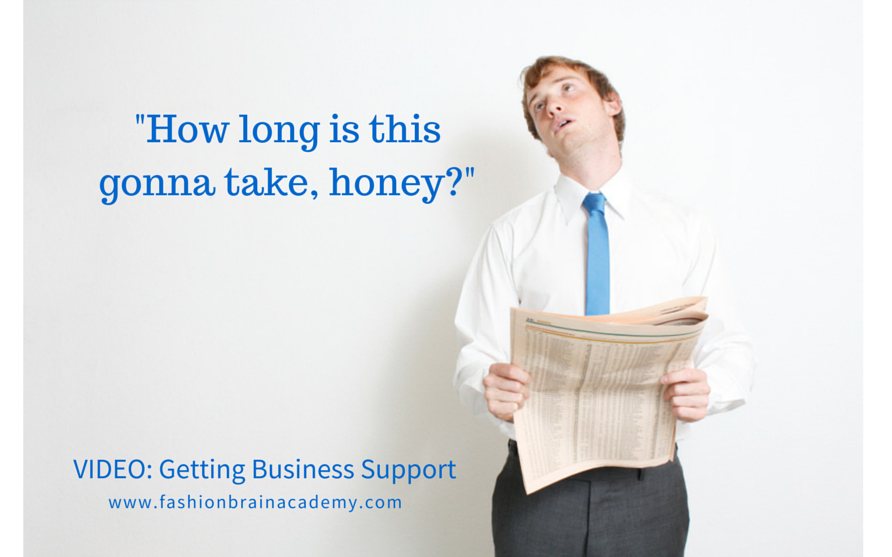 Do people around you support what you're doing in your business?
In this video, I tell you the story of a designer who had "issues" with her husband. He feels she needs to "get things going" faster and she's worried he'll pull the plug on her business if she doesn't start creating more income.
The problem is that there's no clear definition of success between her and her spouse. What exactly does "get things going" mean?
Is it a sales goal?
A number of wholesale accounts?
Press exposure?
How will you ever know if you're doing well if you don't define exactly what that means? You don't want to have the constant feeling of "not enough-ness". And yes, that's the technical term. We all want support from the people around us.
Starting a new clothing or accessories line can cause a strain on any relationship. Check out the video to get some tips to handle this startup stress.
What do you think? Has there been a time when you didn't feel supported in your business? How did you handle it? Let me know in the comments below!
Thanks for watching and reading,
Jane
P.S. If you're looking for support , you should run, not walk, to check out my Momentum Group. It exists to help you connect with other like-minded entrepreneurs, stay accountable, and have a place to turn for questions. Designer feedback has been 100$ positive on this program! Check it out here: https://fashionbrainacademy.com/momentum/