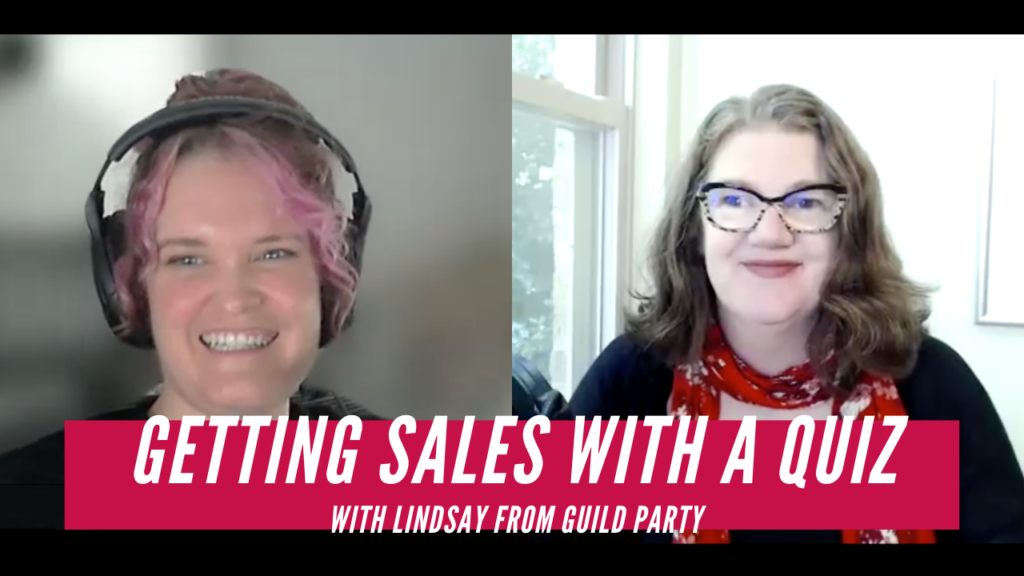 Lindsay from Guild Party started building her customer list BEFORE her product was even ready to sell.
She created a quiz and it got shared ONCE on Twitter which resulted in 400 NEW EMAIL SUBSCRIBERS in a single day.
Her quiz has gone on to add over 1000 leads to her email list. Boom. 
How did she do it?
What's the ROI of her quiz?
How can YOU use a quiz for list building & sales for your e-commerce store?
It's all in today's QUIZ FOR LIST BUILDING AND SALES episode: video + audio. 
Watch or listen below…
You can also listen on iTunes, Stitcher, Spotify, or Soundcloud
Key things we talk about:
Building the Brand of Guild Party
The Importance Of Knowing Your Audience
The Simple Thought Process Behind Building The Quiz
Building Your Customer Email List
Email List Housekeeping
Social Media and Facebook Ads
The ROI of Lindsay's Quizzes
+ more – It's jam-packed!
Resources mentioned in this episode.
A snapshot of Guild Party
"Bringing together modern-day style with fantasy aesthetics, Guild Party strives to put you into the shoes of a heroic adventurer. Whether you're looking for something comfortable enough to wear during a 6 hour gaming session, or need something to wear for that Comic Con after party, Guild Party wants you to feel good and confident while also rocking that fantasy feel.
The first collection, Fighter is inspired by medieval knights through colors, textures, and style lines. While these pieces aren't made of actual armor, you'll feel powerful and ready to take on the world."
What's the BIGGEST takeaway from this episode? Has it inspired you to take action and look into launching a Quiz to grow your list? 
At Fashion Brain we're taking action and launching our own Quiz soon… keep a lookout for that! 
Listen to this episode and let me know what you think in the comments below. I love hearing from you.
And remember…Perfect is good but DONE is better!
xo -Jane