Client Stories: Jen and Tiffany's 90-Day Coaching Sprint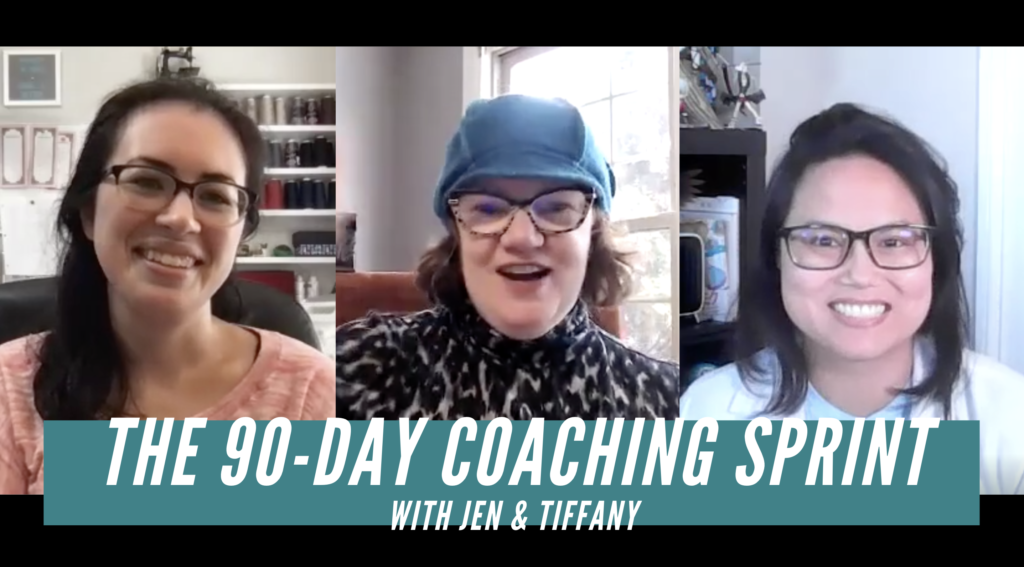 Will a business coach really help me?
90 days of private coaching. 
Does it make any real difference? 
Hear from Jen Siow and Tiffany Nelson about the good, the bad, and the ugly of 1:1 coaching and their badass entrepreneurial effort. 
I love these entrepreneurs and their honesty, 
Jen Siow is the owner of Persnickety Pets. She makes cheeky pet gear and pet art and for people with anxiety.
Tiffany Nelson is the owner of Holic Mode, a geek apparel and cosplay design studio with colorful apparel, art, and animations.
We discuuss…
what it's like to have a business coach
the ups, downs, frustrations, breakthroughs, habits, mindset — all in a span of 90 days
what's different now from when they started coaching
the importance of finding your audience and ideal customer
how the "Badass 30" changed the mindset and confidence level of these entrepreneurs
Watch or listen below…
You can also listen on iTunes, Stitcher, Spotify, or Soundcloud

Show Notes: 
Learn more about Jan and Tiffany below.
Jen Siow from Persnickety Pets: 
As someone who was always surrounded by animals, I set out to create a livelihood that would keep me in touch with my pet-loving side. My goal as an artist is to capture those moments where our fur babies make us smile, make us laugh, and provide us with comfort during hard times.
I started drawing the Persnickety Pets comic in August 2020. Being a comic artist was something I'd always wanted to try and there's nothing *quite* like a global pandemic to put those sorts of dreams in perspective. Since then, the comic has taken on a life of its own and I couldn't be happier to spend my time expanding the quirky world of the Persnickety Pets!
Currently, every Persnickety Pets product is designed, drawn, and made by me in my home studio, with a dash of love, lots of care, and maybe a stray pet hair (or two).
Tiffany Nelson from Holic Mode:
Holic Mode is a geek apparel and cosplay design studio owned and operated by Tiffany Hutabarat-Nelson in Louisville, KY. This majority queer run and woman-owned business began by offering cosplay commissions to local cosplayers with the goal of making fandom fashion accessible to all body sizes and identities. I grew to offer ready-made collections of graphic tees, beanies, accessories, and vinyl stickers for the everyday geek and anime lover. My design style is heavily influenced by the anime aesthetic and I like designing different kinds of cute or cool geek-ness.