Heavy Mental Detox – a Personal Journey of Entrepreneurship, Creativity, and Other Scary Stuff (Podcast)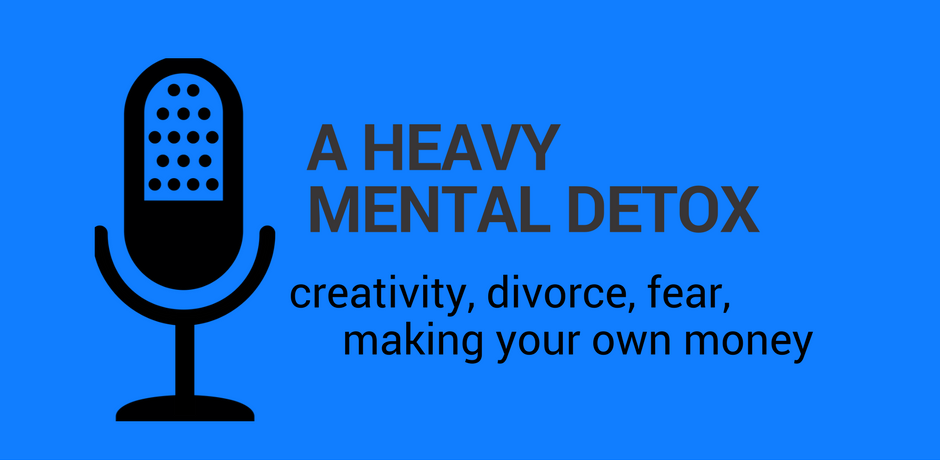 Do you ever wonder what is REALLY going on with someone's business? Not the airbrushed Instagram version but the holy crap that's really going down version.
About what it really takes –and means – to be an entrepreneur who makes money with their creativity? 
In today's podcast, we talk entrepreneurship, divorce, fear, men, making your own money, babies, being a boss, truth telling…
I recently turned 50 (whaaaaaaa??) so I somehow found the courage to post this today. I'm starting to do scary shizzle like this because well, why not? If it helps just one person's business it's a win – so who am I to be so afraid to tell a true story? And yes, I feel like puking as I write this – that's how scary this is.
I hope you like it and I really hope it helps you in some small way.
Download this episode on iTunes or Stitcher Radio. You can also click here to download it to any device as an mp3. 
Here's what I cover…
Creativity, divorce, fear, men, making your own money, what makes someone successful
The scary $7200 I spent on my first business coach (and the holy crap the results)
There's the business mission I tell people and then there's the real reason...aka Jane's story
"True" entrepreneurs vs. someone who plays one on TV
Starting a fashion brand TODAY – the game's changed
Using creativity to make a product and then using it again to SELL it
The magic business partner all creatives want and where the heck is she anyway?
The Nasty Gal experience and how it affects your small business
Show notes:
Your turn!! Please give me your HONEST feedback about this episode in the comments below. I can't wait to hear from you! 
Jane