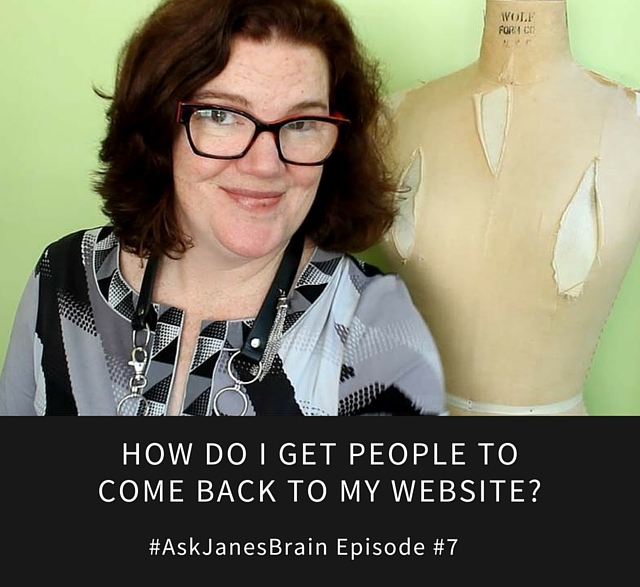 The interwebs is big place – and it's not even really a place. We've been told you can reach millions with just! one! click!. And you can make millions of dollars in three! short! months!
I mean, check out some of these internet promises…
"Learn The Secret To Become A Millionaire In One Day, Guaranteed!"

"7 Shortcuts for Building an E-Commerce Startup to $1M in 12 Months"

"Discover how just 15 minutes today is all you need to generate yourself millions!"

"He was 14 years old when he started making and selling 'SuperJam,' and within a few years he had annual sales in the millions"
Who couldn't spare 15 minutes a day to make millions? Sign me up, right?
I know I'm exaggerating but one look at Fast Company will show you enough stories about companies who made tons of money online FAST to make your head spin. It's bound to skew our expectations about selling online.
In the video I answer a question from Karlene:
"Jane, How do I get customers coming back to my website to actually make a sale?"
There's a pretty straightforward answer to this question. Watch the video now…
So Karlene, does that help? If you're thinking, "that sounds like a lot of work", you're not alone. I hear that all the time from entrepreneurs who want to send ALL their time on creating and no time on marketing and sales. 
I have 2 things to say to product-only entrepreneurs:
You're trippin' if you think that's how to make an online business in 2015.
There are ways to simplify (and even automate parts of) your marketing process to keep a steady flow of customers on your pipeline. 
(Quick plug: If you're tired of creating kick-ass products that no one knows about, this will help you tremendously.)  
So now let me ask YOU a question. Do you agree with my advice for Karlene? 
What's the ONE piece of advice you'd give Karlene to get customers to come back to her website and make a sale? Leave me a comment below and let's get chattin'.
As always, thanks so much for reading (and watching), 
Jane
P.S. Did you like this video? If so, kindly give me the LIKE below and share the love.